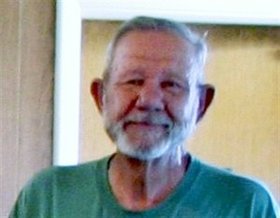 Wayne "Bud" Lee Shapley
July 5, 1941 - March 29, 2011
Wayne Lee "Bud" Shapley died March 29, 2011, at his home in Hood River, Ore., with family by his side.
Wayne was born in Emmett, Idaho, July 5, 1941, to Wayne and Florence Shapley. He went to school in Emmett and Nampa, Idaho, and at age 16 moved to Parkdale, Ore.
He married his love of life, Beverly Jean Ambrose, Oct. 13, 1959. Wayne served in the army, with a tour taking him to Korea also in 1959. The two celebrated more than 52 beautiful years together.
They had two daughters, Cheryl and Shawna.
Wayne worked for the City of Hood River water department before going to the county road department, where he retired in 1996.
He then, like many of his friends, became a "snow birder," going and enjoying his home in Lake Havasu, Ariz., and coming home with a tan to brag about.
Wayne was a retired volunteer firefighter with the West Side Fire Department and was a member of WAAAM with many of his steam-cooled engines and antique car on display. He was also a member of the Hood River Antique Car Club.
Wayne had so many joys besides family time and friend time, reading, rebuilding old cars, old tractors, bottle collecting, mushroom hunting, working with his steel lathe, old flywheel engine restoration, touring with the car club and was always available to anyone in need at any time.
Wayne so adored his grandchildren, Donny Collins, Kassandra Wood and Nicholas Rider-Bayes, and said he had learned the meaning of being a great-grandpa by his great-grandson, Shyloh Allen Davidow.
He will be greatly missed as a wonderful loving husband, father, grandfather, brother, uncle, great-grandfather and a loyal friend to all who knew him.
Wayne is preceded in death by his parents; grandson Andrew Wood; sister Georgie Shapley; infant sister Maryann Shapley; infant brother Edward Shapley; and brother Johnnie Mckee.
Wayne is survived by his wife, Beverly Shapley, of Hood River; his beloved cat, Butch; daughters Cheryl Shapley, of Nampa, Idaho, and Shawna Rider and her husband, Earl, of The Dalles, Ore.; grandsons Donny Collins, of Texas, and Nicholas Rider-Bayes, of Hood River; granddaughter Kassandra Wood and great-grandson Shyloh Davidow, of North Pole, Alaska; siblings Helen Baker, of Meridian, Idaho, Mazie Costen, of Melba, Idaho, Ann Frazier, of Nampa, Idaho, Yvonne Hiat, of Wilder, Idaho, and William Shapley, of Homedale, Idaho; and numerous nieces and nephews whom he loved dearly.
The family would like to thank all who visited, brought food, flowers and phone calls before his passing; it was very kind and appreciated. A special thank you to Dr. Paul Hamada and staff, and Hood River Hospital and Heart of Hospice for his care.
Per his request there will be no service and a celebration of his life will be planned at a later time. For all who knew him he would like to leave us something to ponder:
Tomorrow
Tomorrow smile at someone
That you've never
seen before.
Take time to think
of others that
You feel compassion for.
Tomorrow tell somebody
How they brighten
up your day.
Let random acts of kindness
Put your feelings on display.
Tomorrow hug your children
Somewhat tighter
than before.
Be sure to think of
all the things
You can be thankful for.
Pat your dog a little longer.
Hug and kiss your
husband/wife.
Thank your God for
granting you
Another day of life.