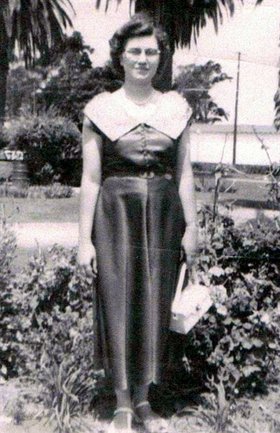 Viola Irene Wagner
April 4, 1932 - March 28, 2011
Viola Irene (Luth) Wagner of White Salmon, Wash., was born April 4, 1932. She passed away March 28, 2011.
Born in Bonesteel, S.D., she moved to White Salmon in 1948. She graduated from Columbia High School in 1950.
She married Floyd Wagner in 1954. Floyd and Viola lived in several states while Floyd served time in the military. They moved back to White Salmon in 1957 to raise their family.
Viola was a proud sister, aunt, a mother of eight, a grandmother of 10 and a great-grandmother of six. She enjoyed family camping trips and making quilts and spending time with her family, friends, grandchildren and great-grandchildren. She also enjoyed trips to the beach to visit her brother and her many years as a member of the Hood River Eagles.
Viola passed away in her home with family by her side. She will be missed by her family and friends and will always be remembered for the loving caring person she was. There was never a person she didn't call a friend and a child she didn't consider a grandchild.
Viola was preceded in her death by her daughter Doris and is survived by her husband of 58 years, Floyd Wagner. She is also survived by her son, Wes Wagner, and daughters Sylvia Hatch, Viola Wagner, Lavern Bligh, Edith Burnett, Wanda Wagner, Helen Everts and Carla Curtis, as well as her sons-in-law Gerald Bligh, Bob Burnett and Rick Curtis.
She is survived by 10 grandchildren: Naomi Wagner, Pat and Andy Jones, Floyd and Gerald Bligh, Micheal Wagner, Kenon Everts, Brandon and Tyler Burnett and Amanda Curtis; as well as six great-grandchildren: Katy and Lindsey Jones, Jeremiah Schneider, Micheal Jr. and Joseph Wagner and Maximus Bligh.
She will also be missed by her brothers, Bob Luth, Walter Luth, Joe Luth, Marvin Luth and Myran Luth, and sister, Doris Massey.
A celebration of life will be held at a later date.