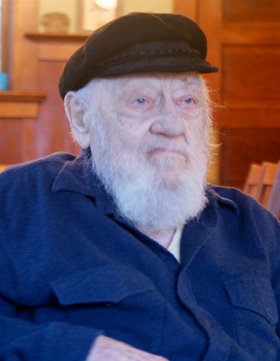 Charles "Chuck" John Boonstra
January 21, 1918 - April 3, 2011
Charles John "Chuck" Boonstra passed away on Sunday evening, April 3, 2011, in Hood River, Ore., where he had lived for the last three years both at Parkhurst House and Providence Brookside Senior Living Center. His three children had gathered to be at his bedside: John Boonstra, of Hood River, Suzanne Lake-Daniels, from North Branch, N.J., and Michael Boonstra, from New York City.
Since moving here from Huntsville, Tenn., shortly after his 90th birthday, he has been close to his oldest son John and his family, wife Vicky and daughters, who have enjoyed having him close, visiting him often and bringing him home for meals, holidays and outings. Chuck was thrilled to be close to his grandchildren in the last years of his life filled with joy in their company.
Chuck touched many lives. As a minister of the Reformed Church of America in Three Oaks, Mich., Orange City, Iowa, Rochester, N.Y., and Gilderland Center, N.Y., and then for the Presbyterian Church USA in St. Petersburg, Fla., and Huntsville, Tenn., he married, baptized, brought into church membership and memorialized countless people. He was a big part of the growth of the churches and enabled the justice ministries of the communities in which he served.
He was still a member of the Presbytery of East Tennessee of the Presbyterian Church (U.S.A.) at the time of his death. This, his last church, in Huntsville, Tenn., was the home where he leaves his heart.
When his successor oversaw the dedication of a new church building, the fulfillment of a life dream of the congregation, Chuck participated in the design of the stained glass windows and commissioned a grand piano in memory of his mother, Helen Boonstra, who was a beloved friend of the congregation, and who spent many weeks in their presence getting to know them and visiting Chuck for extended stays. She became a close part of their community - so close, in fact, that when parishioner Sen. Howard Baker brought then-President Ronald Reagan and his wife, Nancy, to church one Sunday, she was the only one outside the congregation who was invited to attend.
His ashes will be buried in the cemetery he helped create on a hill behind the church and the house where he lived for almost 35 years. A memorial service will be held at that time, in late June.
While Mr. Baker was senator, Rev. Boonstra was invited to Washington, D.C., to be chaplain for a day, and opened the Senate Chamber with a prayer that is now part of the congressional record. His mother, family and friends were in attendance in the gallery and later lunched with Sen. Baker in his office.
Chuck was born in Muskegon, Mich., to John Charles Boonstra and Helen Borgerding Boonstra, the oldest of six children. He performed in many plays in school and loved to fish and hunt, which he continued to do for most of his adult life.
As the announcer of a gospel hour featuring a male quartet, broadcast from a local funeral home, he met his wife, Olive Mae Green, who was the accompanist. He attended three years at Calvin College and graduated from Hope College in Holland, Mich. He went on from there to graduate from Western Theological Seminary.
His first church as pastor was in Three Oaks, Mich., where Suzanne was born. For the 30 years that he was married, his wife Olive was organist at each church he served. At his next church in Orange City, Iowa, where his two sons were born, there were people who were not even members who attended his funerals because they admired how uplifting they were and how each one celebrated the life of the deceased instead of dwelling on the death.
In Rochester, N.Y., in the 1960s, he was very active in the Urban League supporting community organizers like Saul Alinsky, seeking to bridge the fractious divide that separated the races in those turbulent years of riots and separation. Part of that movement put pressure on Eastman Kodak and other employers to institute job training for the hard-core unemployed.
His final service with the Reformed Church was in Guilderland Center in upstate New York. It was there that he divorced and moved to St. Petersburg where he was briefly remarried. Subsequently he became assistant minister at a Presbyterian church, and was then called to the church in Huntsville where he found great joy and fulfillment.
His work in Huntsville, Tenn., extended beyond the boundaries of his church. He was active in the local food pantry and ministered to the needs of many in the area. When he found he wasn't able to sit outside in the summer because of the many mosquitoes, he built several houses for purple martins, nature's best insect control, which were not known to summer there.
The first year they found the little houses and came year after year to his delight and that of his neighbors who commissioned that he build similar accommodation for the birds in their yards. With the help of friends, he also built a huge screened-in back porch there where he hosted many parties, especially the eggnog party at Christmastime that was an eagerly anticipated event in the community each year.
He is survived by a sister, Annamae Johnson, of Muskegon; his ex-wife Olive; three children; daughter-in-law Rev. Vicky Stifter, of Hood River, son-in-law Wayne Daniels, of North Branch, N.J.; four grandchildren: Seyeon Malott, Kayla Charles Boonstra and Everley Olive Grace Boonstra; a surrogate grandson from Sarajevo, Darko Latic, and a step-granddaughter, Glynis Daniels, and step-great-grandson, Evan Shieh, of Bethlehem, Pa.
Plans for contributions for a memorial in Chuck's name are being formulated.
Please visit www.andersonstributecenter.com for details and photos.
Arrangements are under the direction of Anderson's Tribute Center (Funerals, Receptions, Cremations), 1401 Belmont Ave., Hood River, OR 97031; 541-386-1000.