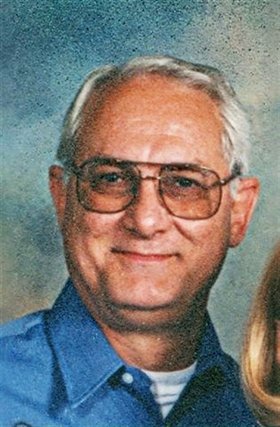 Larry Theodore Sanguras
July 15, 1947 - April 19, 2011
Larry Theodore Sanguras, 63, passed away Tuesday, April 19, 2011. Larry had resided at the Oregon Veterans Home in The Dalles, Ore., since suffering a stroke in February of 2009.
Larry was born July 15, 1947, in Portland, Ore., to Theodore C. and Joan Sanguras. He had one sister, Barbara, and a brother, Barry.
Larry and Barbara grew up in Newport, Ore., with their mother. His extended family included his grandmother, Ann Smith, his uncle, Roger Smith, wife Loretta and cousins; Nancy, Mike, Diane, Gloria, Janet, Jim and Brian as well as his aunt Margot Lamont and cousins Margaret Ann and Greg. Another aunt, Roseanne King, and cousins resided in Phoenix, Ariz.
Larry graduated from Newport High School in 1965. He loved sports and participated in wrestling, baseball, basketball and track. He excelled in the high jump and won high school and state honors in that event, including being one of the national winners in the Junior Olympic 1963 meet.
He attended the University of Oregon on a track scholarship and felt fortunate to be coached by Bill Bowerman. Larry left college to join the U.S. Army and met his wife, Debbie, while stationed at Fort Rucker, Ala.
On Oct. 4, 1969, Larry and Debbie married in Dothan, Ala., and started their family with the birth of daughter Tracy in 1970. They returned to Oregon when Larry was discharged from the military in 1971 and he completed college and graduated from the University of Oregon.
After college, Larry began working for his father-in-law, William Bright, at Western Power Products in Hood River, Ore. The family moved to Carrollton, Ga., where Larry was plant manager of a branch of Western Power. A son, Todd, was born there in 1973.
In 1976, the family returned to Oregon where Larry continued to work at Western Power until 2000. A third child, Lindsey, was born in The Dalles, Ore., in 1984. Larry was also the commanding officer of Company A, Hood River, 1st Battalion, 249th Infantry of the Oregon National Guard from 1981-84.
Larry was very active in the lives of his children and continued his love of sports through their activities. His leisure time was spent coaching his kids in basketball, softball and track as well as umpiring many baseball games, even after his children were no longer involved in the sport.
He continued to be a huge University of Oregon fan. His other hobbies included tennis and golf. Larry had a huge heart and was always willing to help friends, family or anyone with a need. He was a humble man who never wanted to draw attention to himself. His greatest love was always his family.
Larry was preceded in death by his father, Theodore (Sandy) Sanguras, his mother, Joan Bright, and his sister, Barbara Sanguras.
He is survived by his wife, Debbie; daughter Tracy and her husband, Rob Norton; granddaughter Taylor Norton and grandson Austin Norton, of Hood River, Ore.; son Todd Sanguras, granddaughter, Anika Sanguras and grandson Beckam Sanguras, of Lantana, Texas; daughter Lindsey Sanguras, of Lake Oswego, Ore.; brother Barry Sanguras, of Bakersfield, Calif.; and stepfather William L. Bright, of Wilsonville, Ore.
A memorial service is planned for 1 p.m. Thursday, April 28, at the Hood River Alliance Church, 2650 W. Montello, Hood River, Ore., with a reception to follow.
Arrangements are under the direction of Anderson's Tribute Center (Funerals, Receptions, Cremations), 1401 Belmont Ave., Hood River, OR 97031; 541-386-1000. Please visit www.andersonstributecenter.com to leave a note of condolence for family.