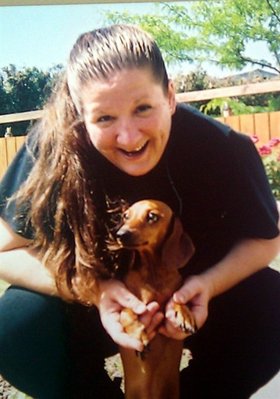 Cheryl Ann Shapley
August 22, 1960 - July 8, 2011
Cheryl Ann Shapley 50, former Hood River, Ore., resident, died July 8, 2011, at her home in Nampa, Idaho, of natural causes. Cheryl was born Aug. 22, 1960, in Hood River to Wayne and Beverly (Ambrose) Shapley.
Cheryl grew up attending school in Hood River and graduated in 1978.
She loved the Hood River Valley and worked several jobs starting as a young woman at Tom's Drive-In, The Ranch Drive-in (when the park-and-eat was there), Luhr Jensen for many years, Full Sail Brewery and at the time of her passing was a home health care provider in Nampa, Idaho.
Cheryl moved to Nampa to get better acquainted with her late father (Wayne Lee Shapley's) large family, which was a great joy to her. She became very fond of The Stoney Creek Knuckle Heads and their family motorcycle rodeos, spent with many of her cousins and special friend Lorna Frazier.
Cheryl enjoyed many things: her time as a volunteer with the West Side Fire Department, stained glass, her cats, mushroom hunting, old cars, hiking, fishing, camping and trips to the beach.
Cheryl married Don Collins in 1979 and they had one son, Donald Collins.
Cheryl is preceded in death by her father, Wayne Lee Shapley, and nephew Andrew A. Wood.
Survivors include her son, Donald Collins, of Hood River; mother, Beverly Shapley, of Hood River; sister, Shawna Rider, and her husband, Earl, of The Dalles; niece Kassandra Wood-Tanner and her son, Shyloh, of North Pole, Alaska; and nephew Nicholas Rider-Bayes, of Hood River.
Cheryl's family here in Oregon would like to thank all of our wonderful family in Idaho for all the love and support shown toward our beloved Cheryl in life as well as her passing. We are truly blessed to have each and every one of you.
A graveside memorial for Cheryl and her father Wayne has been planned for Aug. 5 at 7 p.m. at Idlewilde Cemetery.