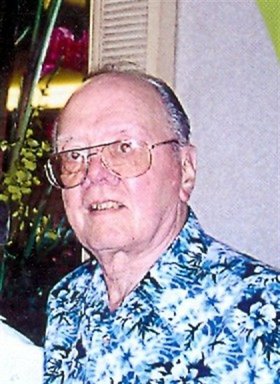 John "Jack" Armstrong Carrington
March 4, 1917 - July 28, 2011
John "Jack" Armstrong Carrington, 94, of Hood River, Ore., passed away at the Brookside Manor Assisted Living on July 28, 2011. Jack was born to Willis E. and Ella A. (Armstrong) Carrington on March 4, 1917, in West Linn, Ore. He attended school in Oregon City, Ore.
All services will be held at Anderson's Tribute Center; a time of visitation on Wednesday, Aug. 3, from 11 a.m. to 5 p.m. and Thursday, Aug. 4, from 9-10:30 a.m. A funeral will be held Thursday, Aug. 4, at 11 a.m. with a reception following. Interment will take place at the Idlewilde Cemetery.
As a young man in the 1930s, Jack climbed to the top of Mount Hood in street shoes with his brother. He also hitchhiked across the United States, staying in jails for shelter.
During World War II, he served in the U.S. Army Air Corps in Texas and New Mexico as an airplane mechanic. During his career he was a tug boat operator on the Columbia River for Western Transportation.
He married his wife, Anne, on Feb. 13, 1999, in Salem, Ore. After living most of his life in the Portland area, he and Anne moved to Hood River in 2007.
Jack was a member of the following: Masonic AF & AM, Eagles Washington Lodge and the American Legion Post 180 of Milwaukie, Ore., and the Sunnyside Methodist Church in Portland.
He was preceded in death by his parents, four brothers: George, Walter, Maurice and Carl. He was also preceded in death by wives Evelyn Carrington and Maxine Carrington.
He is survived by his wife, Anne Carrington, of Hood River, Ore.; stepdaughters Fern Travis, of Honolulu, Hawaii, Kathie McCaw, of Hood River, Christy Shepard and Barbara Patton, of Salem, Ore., and Pam McCellan, of Camas, Wash.; and numerous grandchildren.
Arrangements are under the direction of Anderson's Tribute Center (Funerals, Receptions, Cremations), 1401 Belmont Ave., Hood River, OR 97031; 541-386-1000. Please visit www.andersonstributecenter.com to leave a note of condolence for family.