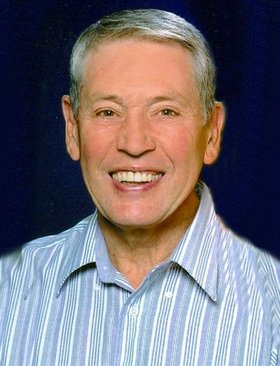 Lawrence "Larry" Herbert Carter
September 24, 1943 - July 31, 2011
Lawrence Herbert Carter was an enigma. He defied all stereotypes of a man who spent the majority of his life performing the back-breaking labor of logging.
Larry grew up on the Columbia River and from the age of 12, he helped his father salvage logs and tender them to the mill. As a young man, he went into business for himself with an old wooden fish boat, later building two tugboats.
He never shunned hard, dangerous work and grew his own log salvage business to be the largest log salvage business in Oregon and Washington.
Despite working in the timber industry, Larry loved the outdoors and had a special fondness for wildlife. It wasn't unusual for him to befriend a deer or fox while working on a particular site. He especially loved his Borsoi, Maggie, a constant companion to him in the woods where he frequently worked without assistance.
Larry couldn't get enough of the outdoors. As a young man, he was an avid hunter, but had a change of heart later in life because he cherished all of God's creatures. He enjoyed fishing and boating, woodworking, gardening - and most of all, spending time with his family.
Larry continued some logging and kept a thriving firewood business well into his senior years, up until last year when illness devastated his strength. He fought cancer valiantly and always maintained a positive outlook on life and his recovery. A fighter to the end, no pain or discomfort would discourage him from trying to get well.
He is survived by his mother, Noma Winchell, his loving wife, Pat Carter, his brother, Dan Carter, and his children, grandchildren, nieces and a nephew.
Larry was not a man of many words, but when he spoke, he was polite, gentle and compassionate. Known affectionately by his community as the "Wood Man," he will be remembered as a kind and fair businessman.
He stacked the wood in his truck with such precision that the rows were practically airtight, to ensure that none of his customers were ever "shorted." He took extra time to deliver and carefully stack wood for the elderly and the sick.
He will be in the hearts of all of the people who met him. He will always be in the heart of his family who loved him.
A memorial service will be held in his honor at 1 p.m. Thursday, Aug. 4, at Hood River Alliance Church, 2650 W. Montello Ave., Hood River.
Arrangements are under the direction of Anderson's Tribute Center (Funerals, Receptions, Cremations), 1401 Belmont Ave., Hood River, OR 97031; 541-386-1000. Please visit www.andersonstributecenter.com to leave a note of condolence for family.