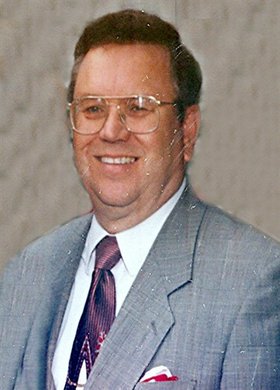 Gary Michael Hornbeck
July 27, 1942 - November 29, 2011
Gary Michael Hornbeck passed quietly through the veil Nov. 29, 2011, at his home in Hood River, Ore., with his family by his side. He was 69 years old and had been diagnosed with pancreatic cancer only two weeks before.
Gary was born July 27, 1942, to Samuel and Iva (Srack) Hornbeck in Baker City, Ore. He lived and went to grade school in Pondosa, Ore., an old mill town that no longer exists. He graduated from Baker Senior High School in 1960 and then attended Eastern Oregon College in LaGrande, Ore.
Gary needed a date for his high school senior prom and he chose Noretta Koontz, a sophomore, to go with him. They married for all eternity on July 31, 1962, in the Idaho Falls Temple and their courtship has continued for 49 years.
They lived in Pendleton, Ore., for two years before moving to Hood River in 1964 when their first child, Kurtis, was born. Darla was next, then Julie, Bradley, Angela and Maria.
Gary has been active in school and community events over the years as his children grew and he owned his dental lab and later his denturist office.
Gary joined The Church of Jesus Christ of Latter-day Saints in 1962 and has served in many position of leadership since that time. He has served as Bishop of the Hood River Ward from Jan. 29, 2006, until Oct. 30, 2011.
While working as a bellhop at the Hotel Baker, Gary was offered a job as a dental lab technician in Pendleton. He accepted the offer and later moved to Hood River on Jan. 29, 1964. He purchased the dental lab that year and has served this community since that time making more than 23,000 dentures in his lab.
In 1980 Gary was in the first graduating class for licensed denturist in the nation. He served as an examiner for several years, as president of the Oregon Denturist Association and on the Oregon State Board of Denture Technology. During his career, Gary developed Sparkle Professional Denture Cleaner that he still sells since his retirement in 2008.
Gary's favorite pastime was rodeo and he enjoyed the Pendleton Round-up and the National Finals Rodeo in Las Vegas every year. He was also a talented artist, sculpting several western art pieces that were cast in bronze.
Gary was known for his sense of humor. Employees and friends might find petroleum jelly on car door, paper towels flying through the air at them or the loud bang of the Indian drum. At mealtime, someone's plate or glass was sure to disappear if they turned their head.
Before his passing, Gary wanted to thank his many friends and family for their love, friendship and service he has witnessed through the years.
He is survived by his wife, Noretta; his children: Kurtis (April) Hornbeck, of Klamath Falls, Ore., Darla (Bob) Schmecker, of Lewiston , Idaho, Julie (Dave) Sintay, of Orem, Utah, Bradley (Tricia) Hornbeck, of Kelso, Wash., Angela (Bryce) Thueson, of Nampa, Idaho, and Maria Montufar and Paulo Montufar, of Hood River; and a legacy of 27 beautiful grandchildren. He is also survived by sisters Jeannie Cates, of Baker City, Ore., and Leanne Johnston, of Ontario, Ore.
Gary's parents preceded him in death.
Services are planned for 1 p.m. Monday, Dec. 5, at the Hood River Church of Jesus Christ of Latter-day Saints, at the corner of 18th and May streets, with viewing from 9 a.m. to 12:30 p.m. Graveside rites will follow at the Idlewilde Cemetery. There will be a special time from 1-5 p.m. for friends to greet with family on Sunday, Dec. 4, at Anderson's Tribute Center, 1401 Belmont Ave., Hood River.
Please visit www.andersonstributecenter.com to leave a note of condolence for family.