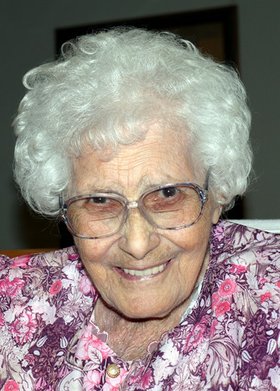 Ruby Alice Woosley
September 8, 1916 - November 28, 2011
Ruby Alice Woosley, 95, of La Grande, Ore., passed away on Monday, Nov. 28, 2011, at a local care facility in La Grande. Her funeral service was held Thursday, Dec. 1, at the Damascus Road Ministries Church, in La Grande.
Services will also be conducted on Saturday, Sept. 3, at 2 p.m., at Gardner Funeral Home, 1270 North Main St., White Salmon, Wash. Interment will be at Klickitat County District #1 Cemetery. Loveland Funeral Chapel is in charge of the arrangements.
Ruby was born Sept. 8, 1916, in Pomeroy, Wash., to Armen Albert Tupper and Sadie Ray (Atchison) Tupper. Ruby and her family moved to Portland, Ore., when she was 7 years old, where she later attended Jefferson High School.
On March 18, 1939, she married James E. Woosley in Vancouver, Wash. They enjoyed 48 years together before James passed away on Oct. 31, 1987.
Ruby was a cook on the Light House Tender, "The Rhododendron," out of Portland in 1935. She received an advanced Red Cross Lifesaving card in 1937 and taught first aid for many years.
In addition to her duties of wife, mother and homemaker, Ruby was a Girl Scout leader and 4-H leader. She volunteered at the Santa Mall in La Grande for several years. Ruby was a member of the Presbyterian Church for 58 years, and joined the Rebekah Lodge in 1943.
Ruby is survived by her two sons and their spouses, Allen and Janice Woosley, of Portland, Ore., and Armen and Lori Woosley, of La Grande; four grandsons, Wayne, Wesley, Aaron and Royce Woosley; one granddaughter, Cindy Sebastian; three great-grandsons, Zachary, James and Alexander Woosley; sister-in-law Bertha Woosley and many nieces and nephews.
Preceding her in death were her parents, her spouse, James, and son Ray D. Woosley, who passed away in May 2008.
Memorial contributions may be made to the Samaritans Purse Ministries, in care of Loveland Funeral Chapel, 1508 Fourth St., La Grande, OR 97850; 541-963-5022; lovelandchapel@frontier.com.