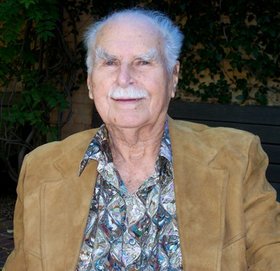 Anatole Sergeivitch Fetisoff
April 14, 1924 - November 27, 2011
Anatole Sergeivitch Fetisoff was born April 14, 1924, in Moscow in revolutionary Russia to Sergei Petrovich Fetisoff and Klavdia Ivanovna Turkin. After his father was imprisoned twice and then released, Tolya and his parents fled across Siberia when he was 5½ years old, narrowly escaping to China.
Tony, as he was then called, grew up in Shanghai attending Public Thomas Hanbury School for Boys, a British boarding school, on scholarship.
After enduring the Japanese occupation during the war, "Tony" came to the U.S. in 1947 to attend UC Berkeley. He followed his father's footsteps into alcoholism, and dropped out of Cal to drink and sell encyclopedias. He never did graduate, but he was always a good a salesman!
At 32, Tolya joined AA and succeeded in becoming sober. He started and led AA meetings throughout the community, including San Quentin prison. Perhaps this was the beginning of the spiritual journey that led Tolya to Catholic retreats, connection with the Rajneeshis, study with Tarthang Tulku Rinpoche at Nyingma Institute in Berkeley for seven years, and throughout more than 40 years the studies of Gurdjieff that sustained him.
Tolya enjoyed a successful business insurance career for 30 years, the majority of these years with Bankers Life Nebraska. He earned his CLU and many honors, including the National Quality Award before turning to a more spiritual quest.
Tolya is survived by his two sons, Jeff and Jay, from his long marriage to his wife, Amy. Jay and his wife, Robin, and their son, Darren, live in Berkeley, Calif., and son Jeff lives in Stinson Beach, Calif.
Tolya's second wife, Betty, opened his heart, and he remained close to three of her five sons as well: Joe, Gyani and Peter.
Tolya met his wife Jane at a retreat center in 1979, and it was love at first sight. They made a life together in the Bay Area for over 20 years; her daughters Laurie and Lisa calling him their "adopted" father.
In 2002 they moved to Hood River, Ore., to be closer to Jane's daughter Laurie, son-in-law David VanCott and their children, Ella and Nelson. Daughter Lisa Nelson lives in Maputo, Mozambique, with her husband Aaron Proman and their three children, Amre, Adam and Brooke.
Tolya and Jane enjoyed a full life together the last nine years in Hood River. Tolya volunteered with SMART at Westside School, cleaned books with the Friends of the Library, led study groups, wrote prolifically about his adventures in China, continued his drawing, loving to collaborate with others, and telling his stories. His family and many friends will miss the twinkle in his eye, bushy eyebrows and his great sense of humor. He was well loved and will be greatly missed.
Tolya decided to enter hospice five weeks ago, and he eased into death surrounded by many friends and family, taking the time to say goodbye and to appreciate life before he went with a gathering in his home filled with live music.
He died Sunday, Nov. 27, 2011. A service was held at the Rockford Grange on Saturday, Dec. 3. Unitarian-Universalist Minister Cathy Rion and Venerable Thich Minh Tinh Kozen Sampson of the Trout Lake Abbey officiated.
Donations in remembrance of Tolya can be made to the Tolya Fund in care of Mid-Columbia UU Fellowship, P.O. Box 521, Hood River, OR 97031. Contributions will benefit the Fellowship, the Trout Lake Abbey and Occupy Hood River.