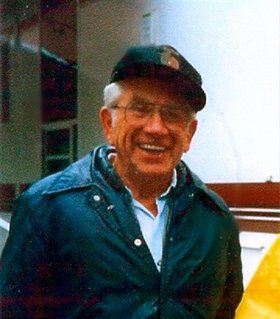 Frederick "Joe" Joseph Wood
June 13, 1919 - November 29, 2011
Frederick Joseph Wood was born in The Dalles, Ore., on June 13, 1919, to Fred and Gertrude (Ferguson) Wood. He passed away at his home in White Salmon, Wash., on Nov. 29, 2011, at the age of 92.
Joe remembered when he was 5 years old, his father driving the team and wagon and his mother driving the Model T with the small children, from The Dalles to Trout Lake, Wash., to start their dairy farm in Trout Lake.
Growing up on the dairy was hard work every day but the kids each learned to play a variety of instruments. Joe played the violin. They all played along with their mom, Gertrude Wood, as a group for Grange dances and other social events in the community.
Joe served in the Army and was honorably discharged in 1943. After his military service, he returned to Trout Lake to work at the family dairy farm.
In 1944 Joe married Violet Speer and they were married for 52 years until her death. Joe and Violet had three children, Barbara and twins Jerry and Gary. Joe was a devoted and loving husband and father. He was always so proud of each of his kids.
Highlights of Joe's retirement were camping at Thousand Trails Park with Violet until her death, and later with his wife Neva. They were regulars at senior dinners and dances in White Salmon, Lyle and The Dalles.
The last few years, Joe and Neva enjoyed spending summers in his camper at Hollenbeck Park in Trout Lake. Joe especially enjoyed mowing the park and working to keep it in pristine condition.
Joe and Neva had 15 very happy years together. Joe made friends wherever he went and will be missed.
He is survived by his children and their spouses: Barbara J. and Bo McConathy, Jerald F. and Zoe Wood and Garold C. and Donna Wood; grandchildren Allen Cowdrey, Lynn Ann Cowdrey, Mark Cowdrey, Derrick Smith Wood, Robin Scheradella, Brock Wood, Chris Wood, Jeremy Wood and Heidi Wood Newall; 18 great-grandchildren; and stepchildren and their spouses Roger and Dorothy Yarnell, Lonnie and Bobby Cornwell and Shellie and Gary Bernor.
A private family graveside service was held at the White Salmon Cemetery on Friday, Dec. 2. A memorial service will be announced at a later date. Gardner Funeral Home handled arrangements.