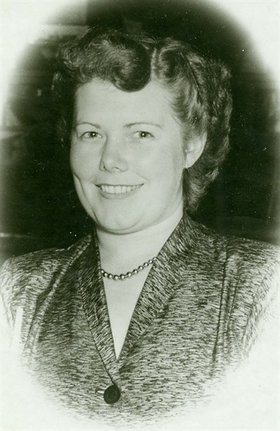 Verda F. Bargabus
April 30, 1928 - December 5, 2011
Verda F. Bargabus, 83, of White Salmon, Wash., passed away Dec. 5, 2011, at her residence. Verda was born in Gravity, Iowa, on April 30, 1928, to Lowell and Ruth Leighton. She was the oldest of five children.
The family moved to Nebraska in 1934 and then in 1937 moved to Mill-A, Wash. Verda graduated from Stevenson High School in 1946. Following graduation while working at Stacy's Drug Store in Bingen, she met her husband, Norman "Bargy" Bargabus. They married on Feb. 2, 1947, and moved to White Salmon shortly after.
In 1948, they opened Bargy's Bakery. After eight years in the bakery business, Bargy took a job with regular hours and they started a family. Together they adopted three children, Gregg, Glenn and Geri.
For the next 16 years, Verda was a full-time homemaker and part-time employee at her in-laws' hotel. In addition, she and Bargy managed a 40-acre pear orchard in Underwood, Wash.
In 1973, Verda began working at the National Bank of Commerce (now known as Sterling Savings) until she and her husband retired in 1983. They then took extended trips along with friends, traveling cross country in their RVs. They explored various destinations in the United States, parts of Canada and Mexico. They also visited Bavaria and Austria.
Verda had many interests including hiking, snowmobiling, skiing and camping. She was also involved as a Cub Scout leader, Rainbow Girl advisor and 4-H mom.
She was a lifetime member of Eastern Star, having 50-plus years. She and her husband were active on the May Fest Committee, were members of the Rhineland Quadrilles Square Dance Club and Steelheaders Club. They both were avid supporters of community development and advocates for the White Salmon community.
Verda's husband, Norman, and her two brothers, Eugene Leighton and Edwin Leighton predeceased her.
She is survived by her three children: Gregg, Glenn and Geri, all of White Salmon, Wash.; one grandson, Dane, of Pullman, Wash.; two sisters, Doris Anderson, of Mt. Vernon, Wash., and Patsy Jhanson, of Ravensdale, Wash.; and numerous nieces, nephews, and great-nieces and great-nephews.
She will be remembered for many things, but most of all for her beautiful smile.
A memorial service will be held on Saturday, Dec. 17, at 2 p.m. at The United Methodist Church in White Salmon. Gardner's Funeral Home will be handling the arrangements.