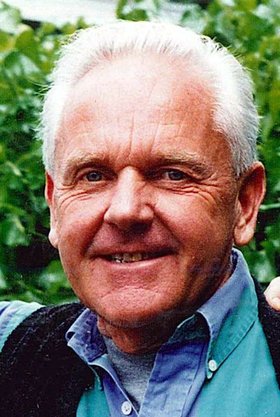 Leland Stanley Brunquist
April 13, 1928 - December 8, 2011
Leland Stanley Brunquist passed away Dec. 8, 2011. He was born April 13, 1928, in Parkdale, Ore., to Albert and Martha (Struck) Brunquist.
Leland was a graduate of Lewis and Clark College, Oregon State University and University of Oregon, a student of education, counseling and educational administration.
He served in the Army Medical Corps in Japan in 1946.
In 1951 he married Nancy Holden of Portland, Ore.
Lee was a student leader in 4-H clubs, Boy Scouts, Christian Endeavor and college politics. He was an amateur actor in college, the Parkdale Highland Players and the Hood River Civic Theatre, and danced with the Junction City Scandinavian Festival.
His professional career spanned four decades of orcharding in the Hood River Valley and school administration in The Dalles, Junction City and Rainier, Ore. Retiring in 1986, he returned to his studies in theater arts, history and sculpture at Portland State University.
His philanthropies included Longview Hospice House, St. Vincent de Paul and Salvation Army. He also spent time volunteering at Portland Center for the Performing Arts, the Japanese Garden Society and Gay Community Counseling.
Lee is survived by his wife of 60 years, Nancy Holden Brunquist; his children: Elizabeth (Betsy) Swyers and granddaughter Sara Swyers of Hood River, Ore., and Virginia (Ginny) Sheinman (Norman) of Marina del Playa, Calif., and granddaughter Marissa Liu of Los Angeles, Calif.
He is preceded in death by his parents, a sister, Eleanor Dallas, and brothers Norman and Robert.
Services are private.
Memorial donations in his name may be made to The Japanese Garden Society of Portland, Ore., at P.O. Box 3847, Portland, OR 97208.