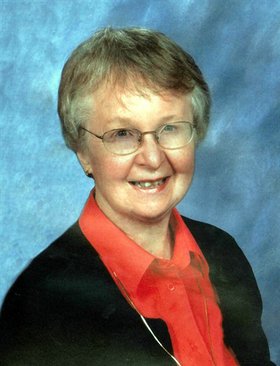 Louise Carol Perry
May 11, 1930 - December 3, 2011
Louise Carol Perry passed away peacefully at age 81 in the early morning hours of Saturday, Dec. 3, 2011, surrounded by the love of her family and friends. All who knew her enjoyed her company and will cherish her memory.
Born May 11, 1930, to loving parents Louis Carl Christian Plog and Mary Elizabeth Plog née Shute, she was raised in Odell. Louise attended Odell High School, where she met her life-long sweetheart, Ted.
Louise went on to receive her certificate in teaching and later, her bachelor's degree in education from Oregon College of Education in Monmouth. She obtained her master's degree in education from Lewis and Clark College in the 1970s while teaching full-time and raising her family. Louise taught for nearly 40 years, most of which were in Hood River County, contributing to many lives.
She was dedicated to her family and friends. Throughout the lives of her children, grandchildren, friends and beyond, she was always available to attend a school function, a recital, baseball game, baptism, birthday celebration or coffee date.
After retiring, Louise devoted her extra time to her spiritual and civic communities through extensive volunteer work. She took great pleasure in reading and music. She played the cello for many years, as well as piano, and exercised her sweet singing voice in the church choir.
Her service included volunteering readily at the FISH food bank, SMART reading program and History Museum - just to name a few.
Louise and Ted shared many of these activities. Among all of their interests, they traveled extensively, even living in Guatemala while working with Habitat for Humanity, work that they continued locally. Active members of Hood River Valley Christian Church since 1957, Ted and Louise helped to build the church's current building.
Louise's worldview was based in a deeply rooted belief that we are all worthy of peace, security and the love of our creators. This was shown throughout her lifetime of kindness and generosity, all humbly and unconditionally offered with a bright smile.
She is survived by her devoted husband of 60 years, Ted Perry, and their four children: Mary Lou Perry, of Mosier, Thad Perry, of Underwood, Wash., Candy Wakamatsu (Jay) of Virginia, and Denny Perry, of Arizona.
Their eight grandchildren, Angie Wakamatsu, Rex Wakamatsu, Mandy Clifford, Angie Perry, Megan Perry, Kirsten Perry, Jace Perry and Jasmine Perry, along with five great-grandchildren carry on as well as her sister, Evelyn Annala (Jim) and her family, their aunt, Rosalin Hanna, and many cousins.
A memorial service will be held on Dec. 17 at 3:31 p.m. at the Hood River Valley Christian Church, 975 Indian Creek Road. All those who wish to join in remembering her may do so.