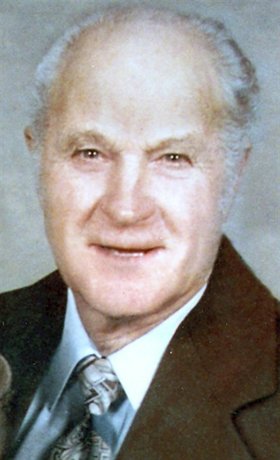 John "Bill" William Lassen
unknown - December 9, 2011
John William (Bill) Lassen passed away Friday, Dec. 9, 2011, at the Providence Hood River Care Center. He was born in 1912 in California.
John came to Parkdale with his parents and two sisters in 1916, when he was 4 years old. John grew up in Parkdale, attended school and was active many years in the Boy Scouts. He attended summer camp at Lost Lake.
John helped his father farm and was active in sports. He held the Mid-Columbia pole vault record for 15 years. He played baseball under team manager Stan Walters for the Mt. Hood Rangers during the 1920s and 1930s. He was also a pitcher for Parkdale's indoor softball team for three years.
In 1921 at the age of 6, John helped plant potatoes on the Dude Ranch (south of Parkdale on Clear Creek Road). The date was May 26. After working all day he went to the woodshed at his father's request to chop wood. He cut off his finger and was taken by a family friend to the hospital in Hood River via a Neal Creek Road detour. There he was treated and stayed for the night. He lost his finger but made weekly trips to Hood River to have the dressing changed. John rode his horse to Parkdale, boarded a railroad stage for 10 cents, and rode to Hood River to see his doctor, Dr. Thrane.
In 1924 when John was 12 he climbed Mount Hood. He joined a group, led by Mark Weygant, that walked from Government Camp to the snow line, then over the mountain; stopping at the Ranger Station, and then continued the climb down the north side to Cloud Cap Inn. He then walked to Cooper Spur Junction and was picked up by car.
In 1930 John graduated from Parkdale High School. In the fall he drove his T-Model Ford to Corvallis with several friends and attended Oregon State College. He stayed in a dormitory and remembered only two cars in the parking lot.
In 1942 John was drafted into the Army. His draft number was 158; the first number General Hershey drew which applied to every precinct in the United States. John was 29 years old.
After basic training at Camp Roberts, Calif., John was transferred to Fort Lewis, Wash. There he and Ina were married. John was shipped to the Aleutian Islands for 22 months. He returned to the States to Mississippi, where Ina joined him. They continued to Georgia and North Carolina before his discharge in 1944.
They returned to Parkdale, resuming farming, building a house and raising a family. They stayed active in community life including the Parkdale Fourth of July Celebration and Parade each summer. John was admired by many neighborhood youth.
John's remarkable memory of history and his experiences remained clear and sharp until the end of his life. He shared his stories with grandchildren and many others. John also enjoyed fishing, camping and traveling.
John was preceded in death by Ina, his wife of 66 years; his son-in-law, Ralph Plaster; and his two sisters, Katherine Lipinsky and Alma Kernan.
John is survived by his children, Ann Plaster, Michael Lassen and Charlene Rivers, and son-in-law, Ron Rivers. Also surviving are 12 grandchildren, 14 great-grandchildren and 15 great-great-grandchildren.
At his request there will be no service. Donations in his memory may be sent to the Parkdale Fire Department.
Arrangements are under the direction of Anderson's Tribute Center (Funerals, Receptions, Cremations), 1401 Belmont Ave., Hood River, OR 97031; 541-386-1000. Please visit www.andersonstributecenter.com to leave a note of condolence for family.