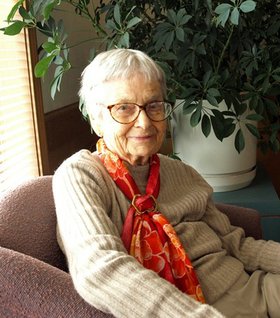 Elizabeth "Liz/Betty" H. Putnam
September 26, 1916 - December 11, 2011
Elizabeth (Liz/Betty) H. Putnam passed away on Dec. 11, 2011, at her home in Hood River. She was born in Ukiah, Calif., Sept. 26, 1916, to Bessie H. and Edward V. Henley. She lived in San Leandro, Calif., Campbell, Calif., and graduated from San Jose High School.
She attended San Jose State College (now University) but World War II intervened in her life. She enlisted in the Women's Army Auxiliary Corps (WAAC) which became Women's Army Corp (WAC) during the war. She became a 2nd lieutenant and was involved in recruiting in the beginning and then was trained to rehabilitate the returning wounded soldiers. She in more recent years found that she had been a physical therapist although the name wasn't used.
After the war, she finished her degree in physical education at San Jose State on the G.I. Bill. Having not been allowed to go overseas as a WAC, she joined a civilian recreational group who ran overseas recreational facilities and activities for the soldiers still deployed. She spent her time in Bremen, Germany.
When she came home from this activity, she went to UCLA in Los Angeles where she completed her master's degree in physical education with a recreation emphasis and training for those with special physical needs P.E.
Liz taught in a number of Los Angeles County High schools and at 95 still had her "girls" of her Drill Team as an active part of her life. One mentioned that Liz had come into their lives when they were 13 and had been a huge influence on their becoming independent women.
She taught in very culturally mixed neighborhoods and had great respect for all her students of any socio-economic or cultural background.
In 1962, she married Palmer Putnam, a talented engineer whose team developed the vehicle which became the snowcat and also the "duck." His first big project was a wind machine in Vermont in the late 1930s. Later he was honored by those building the wind machines even here in this area. He designed their tri-maran boat.
Palmer died in 1986 in Atascadero where they had lived for many years after she retired from teaching.
Liz, known as Betty in Atascadero, became involved in the community through becoming a charter member of the Atascadero Friends of the Library and of the local American Association of University Women. Again she had many dear friends who attest to her leadership, caring of others and ideas for the advancement of women in society.
She held regional and state offices in AAUW, as well. She received a Lifetime award from the State AAUW just three years ago when living here in Hood River. Her friends in Atascadero, especially Janice and David Graham, Janet Grummit, Sue Seliskar, Julie Cross and others, are saddened by her death.
Down Manor was her home where she enjoyed the company of the residents and particularly Lloyd Lowry. They had World War II stories to tell and boating remembrances - hers of sailing and his, as she said, of a "stink boat"- power boat.
She joined the VFW and they proudly hailed her as a World War II veteran who was denied membership at the end of the war. Women could join the Women's Auxiliary! No, thank you, was her answer. I'm a vet, not a wife!
She was the honored World War II veteran speaking at the Veterans Day service Nov. 11, 2009, and was one of the women veterans who were grand marshals for the July 4 parade in 2010.
She loved hand work projects, as an example, worked numerous years making felt Christmas ornaments to be sent to friends and family. Extended and real family were very dear to her. To be remembered still by many in 2011 is a testament to her caring for many and keeping those relationships alive.
She was predeceased by her mother, father and sister, Patricia Nicholson, of San Luis Obispo, and brothers Sam Reed of San Jose in 1958, and Breck Reed of Campbell in 1935. Also surviving is her niece, Jean Reed Harmon and husband, Paul Randall; her great-nephew Matthew Reed Harmon (Michelle) of California and great-grand-nephew, Spencer, and great-grand-niece, Colette Harmon, and great-niece, Ann Harmon Luark (Mike) of Colorado; and her daughter, Hanna Nelson.
The family wishes to thank her special caregivers, Becky Lee, Betty Blake,and Doris Noyes, who worked with her the past two years which allowed her to stay in her apartment in Down Manor.
A memorial service will be held for her in Atascadero the first weekend in May and her ashes will be scattered at that time in the ocean nearby. Financial tributes in her name may be given to any worthy charity of one's choice which benefits the education, especially, of young people.
Arrangements are under the direction of Anderson's Tribute Center (Funerals, Receptions, Cremations), 1401 Belmont Ave., Hood River, OR 97031; 541-386-1000. Please visit www.andersonstributecenter.com to leave a note of condolence for family.