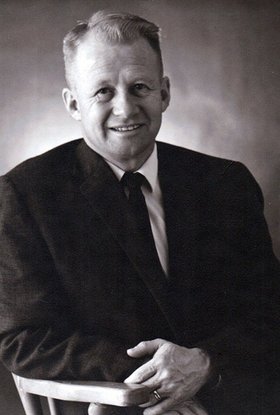 William "Bill" Robert Gale
October 4, 1923 - November 25, 2011
William Robert Gale passed peacefully out of this life on Nov. 25, 2011, at his home in Hood River, Ore. He was born Oct. 4, 1923, to Donald Robert Gale and Miskell Bloom Gale in Union, Ore.
He was born in the house his father was born in, which was built by his grandfather and great-uncle. He grew up in Union and graduated from Union High School, where he was active in sports, (football, track and field, and Golden Gloves boxing), and FFA.
Bill won a Union Pacific scholarship to Oregon State University, but gave it up when he was drafted into World War II. He joined the 10th Mountain Division, the famous "soldiers on skis," and trained at Camp Hale in Colorado. He was a staff sergeant and was awarded the Bronze Star.
After the war he attended Oregon State University, where he was a member of Sigma Nu fraternity, and graduated with a bachelor's degree in horticulture in 1950.
Upon graduation he moved to Hood River and worked for Food Machinery Corporation, Niagra Chemical Division, as a field manager. In 1951 he married Margie Carolyn Bryan. They had a daughter, Kathleen, and a son, Robert. Bill and Margie purchased the farm on Dethman Ridge where he lived the rest of his life. Margie passed away in 1964.
Bill married Francis Yayoi Sono in 1966. They had a daughter, Stephanie.
Bill was active in Crag Rats, serving as Big Squeak in 1959; Pine Grove Fire Dept.; the Hood River Elks, American Legion and JACL.
He was preceded in death by his parents and his sister Donna.
He is survived by his wife, Francis; three children, Kathleen (Don Morris), of Corvallis, Robert, of Seattle, and Stephanie (Tom McKnight), of Hood River; five grandchildren: Connor, Rowan and Mieka McKnight of Hood River, William (Natalie) Morris of Phoenix, Ariz., and Sam Morris of Spokane, Wash.; and two great-grandchildren: Isaac and Mahina Morris, of Spokane.
A small private family service was held with a celebration of life for family and friends to be held at a later date. Bill was laid to rest at Lincoln Memorial Park Cemetery in Portland. Those who wish may donate to a charity of their choice in Bill's memory.