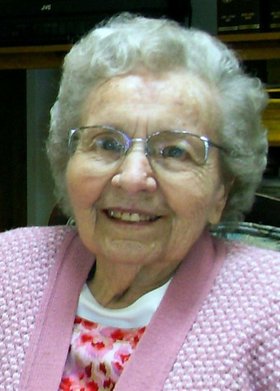 Maudwae Hagen Tanner
February 21, 1922 - January 23, 2011
Maudwae Hagen Tanner was born Feb. 21, 1922, in Davis City, Iowa, to Roscoe and Eula Hagen. She died Jan. 23, 2011, at the Hood River Care Center in Hood River, Ore.
Maudwae, with her parents, moved to Hood River in 1936 where she met and married Ellis (Pete) Tanner in 1939. Maudwae and Pete, along with their four children, lived on their 7-acre ranch out in the country of the Hood River Valley.
Maudwae enjoyed living on the farm and was always actively involved with the raising of many cattle, horses, pigs and chickens. She also enjoyed riding horses all over Oregon and southern Washington. For years she was a big part of the Saddle Clubs with family and friends.
Maudwae worked for the Hood River County School District and became head cook for Wy'east School back in the day when the food was made by scratch and the kids wanted seconds. To this day, folks still talk how good it was!
After Maudwae retired in 1984, one of the many things she enjoyed was watching and assisting her two sons, Ron and Don Tanner, in their race cars, winning and traveling all around the Northwest and Canada. She was their biggest fan!
Maudwae was preceded in death by two brothers, Russell and Donnie Hagen, both of Iowa; a third brother, Varge (Boots) Hagen, along with wife Hilda, who resides in Seattle, Wash.
Maudwae is survived by her four children, Alice Tanner Pierson with husband Roger, Ron Tanner with wife Joyce, Rita (Mo) Stevenson and Don Tanner.
Maudwae has five grandchildren and six great-grandchildren, Marcia Pierson Harpham with children Kira and Niko, Mike Pierson with son Ezekiel, Monique Pierson-Kreitzberg with daughters Eula and Leila, Luke Tanner, Michelle Tanner Lamb with daughter Riley, and with the seventh great-grandchild to be born soon (Dakota).
Maudwae lived and loved a full life, and will be missed by all who knew her.
There was a private family funeral on Jan 22.
Maudwae requested that donations be to the Hood River Care Center Family Council, or any charity of your choice, in care of Anderson's Tribute Center, 1401 Belmont Ave, Hood River, OR 97031.
Arrangements are under the direction of Anderson's Tribute Center, 541-386-1000. Please visit www.andersonstributecenter.com to leave a note of condolence for family.