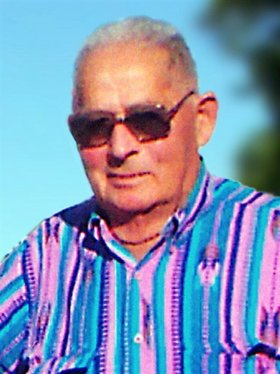 Lloyd Dye Jr.
April 6, 1929 - February 8, 2011
Lloyd Dye Jr., 81, a resident of Hood River, Ore., passed away peacefully Tuesday, Feb. 8, 2011, at the Hood River Care Center. His journey began April 6, 1929, in Omaha, Neb., where he was born to Rozella and Lloyd Dye Sr.
Lloyd moved to Hood River in 1941 where later he met and married Margaret Stearns in 1949. They had four children: Carol, Dyke, Donna and Janet.
At the age of 12 he worked as a pond monkey at a lumber mill. In the early 1950s he bought his first log truck and he became one of the local legends and went by the CB handle of "Pumpkin Eater." When he drove his log truck "he drove like he stole it." He had a bit of trouble with the weigh masters due to their rules and his rules not aligning; he enjoyed telling stories of how he got around them.
With the help of his first wife and her father he built several houses and remodeled some others to use as rentals.
Lloyd enjoyed fishing, hunting, square dancing, riding ATVs on the sand dunes and "snowbirding" at his other home in Yuma, Ariz. He married Faye Brown in 1980. After retiring he enjoyed his morning trips to Rosauers and The Ranch for coffee with his friends.
Lloyd is survived by his wife, Faye Dye, of Hood River; daughters Carol McMurren, Donna Gulani and Janet Anderson; son Dyke Dye; stepchildren Keith Brown and Kathy VanWyhe; grandchildren Eric Dye, Kevin Dye, Monisha Wasson, Amy Gulani, Michelle Anderson, Miranda Anderson, Tammy Nelson, Becky McMurren and Rodger Leininger; six step-grandchildren: Jason Brown, Jessica Sindelar, Justin VanWyhe, Amanda VanWyhe, Kristine Brown and Aaron Brown; 11 great-grandchildren; two step-great-grandchildren; numerous other distant family and many, many friends.
He was preceded in death by his parents; first wife, Margaret; brother Milton and sister Maxine.
A gathering to honor Lloyd's life is planned for 1 p.m. Saturday, Feb. 12, at Anderson's Tribute Center, 1401 Belmont Ave., Hood River. Later in the summer there will be a Celebration of Life picnic at his son's home. Lloyd always enjoyed the picnics.
Donations in his name can be given to Heart of Hospice and/or the donation of blood to the Red Cross.
Please visit www.andersonstributecenter.com to leave a note of condolence for family.