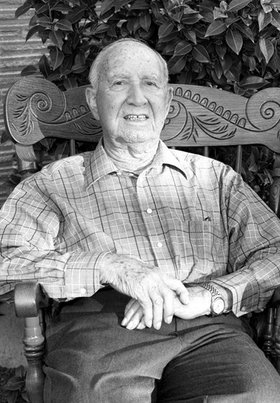 Clarence "Bill" Wells
November 1, 1919 - February 17, 2011
Clarence "Bill" Wells, a longtime resident of Pine Grove, Ore., passed away Feb. 17, 2011, at the Oregon Veterans Home in The Dalles, Ore. He was born Nov. 1, 1919, in Hood River, Ore.
Bill Wells was a man who loved his family, church and community. A life-long resident of Pine Grove, he felt deeply connected to the farm where he was born and lived his entire life.
Even though he traveled widely during retirement, he preferred to be at home, looking at the orchards out the windows of the house. He spent evenings and weekends growing flowers, especially roses, dahlias and gladiolas.
Bill was the middle child of Walter and Beatrice Wells. He attended Hood River High School and was drafted into the U.S. Army Air Force during World War II. The military continued his education in the U.S. Army Air Force Aviation and Mechanic School and the U.S. Army Air Force Aerial Engineering School.
He served in the Asiatic Pacific Theater; as master sergeant, he had responsibility as chief mechanic for airplane maintenance and safety of planes flying "The Hump" from India to China.
During military training in Nashville, Tenn., Bill met and married Marjorie Mears, his wife of 66 years. They had four children: Karen, Gary, Donna and Scott; 11 grandchildren and nine great-grandchildren. He is also survived by his siblings, Gowlan Wells and Marjorie Magnusen.
Bill was actively involved in community and church. He invested many years serving on the Hood River County Port Commission, Oregon Public Ports Association, Pacific Northwest Waterways Association Power Committee, Hood River Supply Association and Hood River Chamber of Commerce.
As a horticulturist, he enjoyed seminars on aspects of fruit production and marketing. Bill was involved in the Oregon Horticulture Society as a member, board director and president. He found it creative and satisfying to help to build the capabilities of organizations dedicated to Hood River County.
Bill and Marjorie enjoyed the friendships and activities that came from membership in Hood River Church of Christ. Always interested in architecture and design, he received great satisfaction in helping to design and build the church building on Tucker Road.
The family business, Walter Wells and Sons, was also central to his life. It pleased him to know that he would be buried in Pine Grove Cemetery along with his family and close to the orchards he had tended and loved.
A memorial service will be held at the Hood River Church of Christ, 1512 Tucker Road, on Friday, Feb. 25, at 11 a.m., followed by a military ceremony and interment at the Pine Grove Cemetery at 2 p.m.
Memorials may be made to the Oregon Veterans Home in The Dalles.
Arrangements are under the direction of Anderson's Tribute Center (Funerals, Receptions, Cremations), 1401 Belmont Ave., Hood River, OR 97031; 541-386-1000. Please visit www.andersonstributecenter.com to leave a note of condolence for family.