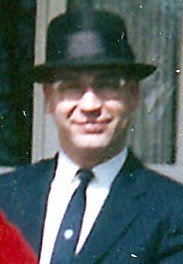 Earl A. Richards
March 29, 1932 - December 25, 2010
Earl A. Richards was born March 29, 1932, in Sterling, Colo. Earl passed away Christmas Day, 2010.
He grew up in Hood River, Ore., attended Hood River schools and graduated from Hood River High School in 1950. He attended Northwest Christian College, served with the Marines during the Korean War, was a police officer for 15 years and a warehouse material handler for 20 years.
Earl and his wife, Mary, retired to their Sisters home in 1993 where Earl organized Central Oregon Songwriters Association and enjoyed performing in community play and skits. He was a hospice volunteer for more than 12 years and received both the Hospice Volunteer of The Year award and the Heart and Soul award.
He worked as a certified nursing assistant and was an active member of Sisters Episcopal Church of the Transfiguration until he was physically unable.
Earl was preceded in death by his father, Simon Richards, mother, Nellie Richards, and sister, Helen Richards (Gove), all of Hood River.
He is survived by his wife, Mary E. Richards, of Sisters, Ore.; his six children: Jim Woods, of Hood River, Doug Woods, of Gaston, Melissa Warren, of Carson, Wash., Paul Woods, of Portland, Jack Richards, of Mill City, and Mary J. O'Dell, of Lakeside; eight grandchildren and three great-grandchildren.
Memorial contributions may be made to Hospice Redmond Sisters, 732 S.W. 23rd, Redmond, OR 97756 or Sisters Episcopal Church of the Transfiguration, P.O. Box 130, Sisters, OR 97759.