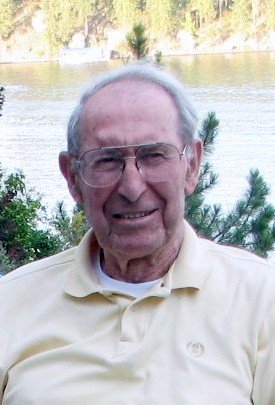 Robert "Bob" Nelson Hackett
April 16, 1915 - December 24, 2010
Robert (Bob) Nelson Hackett, longtime resident of Hood River, Ore., died in Mesa, Ariz., on Christmas Eve of causes related to old age.
Robert was born in Elgin, Ore., April 16, 1915, to William A. (Dolph) and Leona Hackett. His family moved to Hood River when he was a boy and he graduated from Hood River High School. He then went to Oregon State College where he earned a Bachelor of Science degree in mechanical engineering in 1938.
After college he worked in Portland and met the woman who would become his beloved wife for 69 years, Helen Wing. They married in 1941. After World War II broke out, they moved to Salt Lake City, Utah, and later to Oak Ridge, Tenn., where he worked in an atomic energy facility.
Bob and Helen had their first son, Robert Jr., in Salt Lake City and their first daughter, Sally, now deceased, in Oak Ridge. After the war the family moved to Hood River, where he joined his father at the Hackett Furniture store on Oak Street. He owned the store until he retired in about 1978. In Hood River the couple had two more children, Thomas and Martha.
Bob was a loving husband and father who enjoyed get-togethers with family and friends. He always enjoyed a good story and loved to read. He also took great pleasure in golf and tennis, which he continued well into his 80s.
After retirement the couple became snowbirds, eventually establishing a secondary residence in Mesa, where they spent the colder half of the year. Later they lived in Mesa year-round.
He was always eager to return to Hood River in the spring and to resume his local routines, which included morning coffee with friends. He was very attached to the Hood River area.
Robert is survived by his wife, Helen; sons Bob and Tom; daughter Martha; four grandchildren and one great-grandchild. There will be no service.
Remembrances can be made to the Hood River Library Foundation.