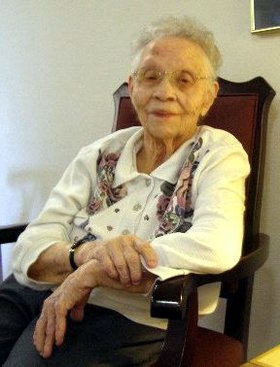 Anna Ruby Knudsen
May 21, 1917 - January 15, 2011
Anna Ruby (Flynn-Fahn) Knudsen was born May 21, 1917, in Fort Dodge, Iowa, and passed away peacefully in her sleep Jan. 15, 2011, at the Oregon Veterans Home in The Dalles, Ore., at the age of 93. All employees at the Oregon Veterans Home took very good care of her in her last months, days and hours.
Anna was born as Edith Elizabeth Davis and was adopted to Frank and Maude Flynn, therefore her name being changed to Anna Ruby Flynn. Anna went by the name "Ruby" all her younger years while living in Fort Dodge.
Life was not easy for Anna, having a stepmother who only had time for her own four children and made Anna do all the work. Life was very hard in those days, not even having the necessities in life, such as healthy food or a pair of shoes.
Anna had four siblings, Douglas, Russell, Maxine and Flavia, all preceding her in death as well as her stepparents.
Anna went through the ninth grade, and then she went to work in a home for epileptics for her room and board for years. Anna then got a job on a farm to work for room and board.
She was shy but she did play the drums in the Salvation Army band for a while and she was very proud of that. She also had a love for looking for four-leaf clovers, and she loved lilacs, crocheting, cats, writing in her diary, and watching the TV show "Who Wants to Be a Millionaire" as well as playing cards with her lady friends.
Anna moved to Omaha, Neb., at the age of 29, getting a job at a birdseed company. She then met Edmund Fahn (Fon) at the age of 30 in 1948. Edmund fell for her and he would be sitting on her front steps waiting for her when she came home from work. They married on Jan. 8, 1949, in Omaha, at St. Peter's Catholic Church. Three children were born to Anna and Edmund: Diana, Gene and Raymond.
Anna went to work after all three children were in grade school, doing housekeeping in motels or hospitals. Edmund provided most of the family's necessities, and Anna wanted to make money so that the family could have the rest of the necessities and a few things that were not. Anna did not have much as a child and wanted to make sure her children had what they needed.
Anna went through a number of surgeries in mid-life, but always made it through with flying colors. The doctors and nurses at OVH felt that Anna had a very strong heart that was keeping her alive; even though she had made peace with God a few years ago, when she thought she was dying; only once again, beating the odds.
When grown, Diana moved out to Washington state with her cousin and family, Darrellean and Smokey Card in 1968. She met and married Gil Randall and they had four daughters. Diana is still here in Klickitat County after 43 years, now living in Goldendale, Wash., with her husband, Julian Notestine.
Gene moved to the state of Maine in 1976, and he still resides there, living close to his four children, and Raymond has lived in Phoenix, Ariz., for 29 years.
Edmund died in 1979, and Anna had always said that she loved the White Salmon, Wash., area and when Edmund died, she wanted to move out here, which she did, soon after his death. Anna left White Salmon twice, as she found companionship in two other marriages: to George Streater in Quinault, Wash., and then to Kenneth Knudsen in Sterling, Alaska. But, Anna always came back to White Salmon, and here she will stay.
Diana did some genealogy when her mother was 91 years old, with the help of two genealogists and a cousin, and found Anna's birth family of which some are still alive in their 90s and one just died at 100 years of age this past year. This proves that Anna came from a long-lived family. Diana hopes to go to Fort Dodge this spring to meet some of them.
Anna's parents, siblings and husbands all preceded her in death but she is survived by her three children: Diana and Julian Notestine of Goldendale, Wash., Gene Fahn of Chesterville, Maine, and Raymond Fahn, of Phoenix, Ariz.; eight grandchildren: Brenda Kerr, Portland, Ore., Wendy Cowan, Portland, Ore., Gina and Ken Thornton, White Salmon, Wash., Sally Randall, Portland, Ore., Ruby Fahn, Madison, Maine, Olivia Fahn, Farmington, Maine, and Nathan and Natalie Fahn, New Sharon, Maine; and nine and a half great-grandchildren: Mason, Skylinn, Savanna, Karissa, Shantae, Payton, Sydney, Javonte, Cameron and a first great-great-grandchild on the way.
A Celebration of Life service was held on Friday, Jan. 21, at Gardner Funeral Home in White Salmon, at 1 p.m. with Pastor Andy Wesner officiating. Burial was held at the White Salmon Cemetery. Send condolences to the family by signing the online guestbook at www.columbia­gorgefunerals.com.
"Anna," "Mom," "Gramma," you will be missed but not forgotten!