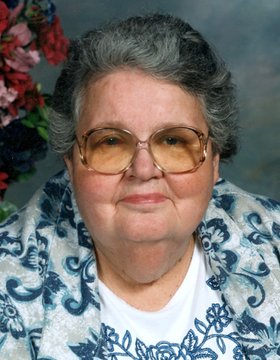 Lorita "Rita" Jean Hansen
August 15, 1930 - January 14, 2011
A friend to all she knew, longtime resident Lorita (Rita) Jean Hansen, 80, went to be with the Lord on Friday, Jan. 14, 2011, at her home in Hood River, Ore. Rita was born Aug. 15, 1930, in The Dalles, Ore., to George and Edith (Meyers) Hastings.
The youngest of three children, Rita spent her childhood in The Dalles until she met a "local boy," a true gentleman, Elmer T. Hansen, from Hood River. They fell immediately head over heels for each other and knew it was their destiny to share their lives together so they married on June 7, 1953.
On March 9, 1954, they welcomed daughter Nancy Jean to their lives. They leaned on each other in the death of two baby boys who were unfortunately not strong enough to make it in the world.
They then shared in the delight of welcoming their son, Robert (Bob) Alan, born Aug. 16, 1960, into their little family which eased the sorrows of losing their two sons.
Rita was preceded in death by her beloved Elmer in 1981 after a very long battle with cancer. Her parents as well as her older brother, Earl, and her nephew, Stephen Hastings, also preceded her in death.
She is survived by her brother Dale, of Washington; her son Bob, and daughter, Nancy, and son-in-law, Howard Kiyokawa, all of Hood River; much delighted in by Rita her granddaughters Sarah Musgraves and Cathy Maxwell, and their mates, of Vancouver and Portland. She also has a niece and six nephews and their families, along with many cousins and extended family and friends in various cities and states.
Services will be held at 2 p.m. on Friday, Jan. 28, at Anderson's Tribute Center.
The family requests that any donations can be made in Rita's name to your favorite charity.
Arrangements are under the direction of Anderson's Tribute Center (Funerals, Receptions, Cremations), 1401 Belmont Ave., Hood River, OR 97031; 541-386-1000. Please visit www.andersonstributecenter.com to leave a note of condolence for family.