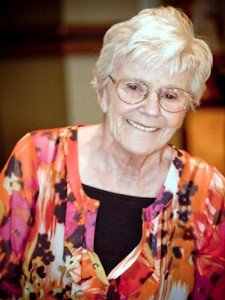 Janie Lucretia Brauckmiller
October 28, 1929 - January 18, 2011
Janie Lucretia Brauckmiller was born on Oct. 28, 1929, the day the stock market crashed. She was, by all accounts, a force to be reckoned with. Janie was feisty with a quick temper, as well as loving, patient, and generous with her time and talents.
She had so many witty phrases that her family lovingly referred to as "Janie-isms". Janie died Jan. 18, 2011, in Portland, Ore., following surgery.
She was born in Gillette, Wyo., to Lucy Emiline and Harper Lamar Jarvis. Harper, or Dick as he was called, was the Sheriff of Gillette and the owner of a pool hall. Janie would tell stories of her dad giving candy to her and her friends, which was rare during the Depression; she felt very special to be able to have that.
Janie's love of candy was with her all of her life. She particularly loved lemon drops and was rarely without them. If you weren't careful she'd pop one in your mouth when you least expected it. Janie was preceded in death by her brothers Harold Rouse, Blair Jarvis, and sister Pearl Towle.
Janie married the love of her life, Red Brauckmiller, on Aug. 26, 1950, and was the ultimate Army wife, ready to pack up and move at a moment's notice. Janie was willing to live wherever the Army sent them.
Red and Janie have five children; each was born in a different state. She was an amazing seamstress, sewing her four daughter's entire school wardrobes through high school. She used to remark that she just had to learn how to be a cobbler so that she could make their shoes.
She loved nothing more than to be at home with her family. She was a devoted mother, sister, and wife. After retirement they lived in Indio, Calif., for 22 winters. Janie's idea of retirement was working at a golf course doing anything that was needed.
She made many friends and Red always said that Janie never met a stranger. He loves to tell the story of the time when four of their friends remarked that they needed to clone Janie.
In 2003 Red and Janie moved back home to Oregon, settling in Hood River to be closer to family. Janie enjoyed her years in Hood River and she especially liked to walk her beloved dog Archie around their neighborhood.
Last year they moved to a retirement community in Portland. In August they celebrated their 60th wedding anniversary hosting a wonderful party with friends and family. Janie is survived by her husband Red, daughters and sons-in-law Lucy Gill and Bill Gibson, Patty and Ramon Bravo, Linda and Randy Johnston, Lonnie and Steve Kennedy, son and daughter-in-law Wes and Lisa Brauckmiller, grandchildren, Michael Bravo, Daniel Bravo, Matthew and Sirota Johnston, Rachel and Adam Goddin, Megan Gill and Troy Buell, Tynan Gibson, Ben Gibson, Jesse Kennedy, Mariah Kennedy, Emily Brauckmiller and Will Brauckmiller.
She was also blessed with seven great grandchildren, Crimson Hamby, Illiana Buell, Bridget Marsh, Vann Marsh, Ramon Bravo, Eva Bravo and Eleanor Bravo.
Mom, you will be forever in our thoughts and hearts.
If you'd like to leave a remembrance or condolence you can go to www.batemancarrollfunerals.com.