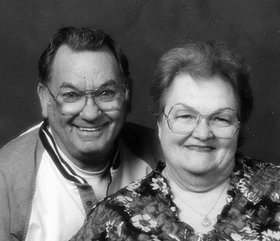 Robley "Bud" Evans Thomas Jr.
March 25, 1927 - November 23, 2010
A loving family man, Robley "Bud" Evans Thomas Jr., 83, died Nov. 23, 2010, in Longview, Wash.
Robley was born March 25, 1927, in Long Beach, Calif., to Robley Evans and Leah Ruby (Wood) Thomas. He grew up in San Pedro and Pearblossom, Calif.
Bud served in the Army Air Corps from 1945 to 1947 in the occupation of Japan, earning the rank of sergeant. On Aug. 10, 1949, he married Violet Irene Claar in Las Vegas, Nev. The family lived in San Juan Capistrano and Dana Point, Calif.
In 1962, the family moved to Mosier, Ore. About 30 years ago, Robley and Violet moved to Longview, Wash., and later to Ocean Park, Wash.
Robley retired as an operating engineer for Lakeside Industries in Longview, Wash., in 1990. Bud enjoyed fishing, hunting, clam digging, reading and spending time with friends and family.
Bud was a kind man. He was never in a bad mood and always had a smile for everyone.
Surviving are five sons, James (Bonnie) Thomas, Jack (Eileen) Thomas, Kenneth (Kay) Thomas, Rodney (Trudy) Thomas and Larry (Linda) Thomas; 11 grandchildren and 13 great-grandchildren.
Also surviving are two sisters, Vivian (James) Hesson of Victorville, Calif., and Margaret (Bill) Proctor of Unionville, Iowa.
Bud was preceded in death by his parents and a brother, Robert Everett Thomas.
A celebration of Bud's life was held at Henri's Carousel in Longview, Wash., on Dec. 4, 2010.
Arrangements were by Columbia Funeral Service.