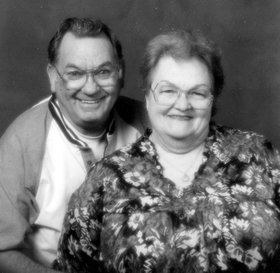 Violet Irene Thomas
October 6, 1929 - December 15, 2010
Violet Irene (Claar) Thomas, 81, passed away on Dec. 15, 2010, in Longview, Wash., just 22 days after the death of her husband, Robley Evans Thomas Jr., 83.
Violet was born Oct. 6, 1929, in Lecompton, Kansas, to Ellery Basil and Florence Bertha (Morriss) Claar. She joined a brother, George Robert "Bob" Claar, who preceded her in death in 2005. In the late 1930s, the family moved to Los Angeles, Calif.
At 16, Violet married Oscar Thomas "Tommy" Morley on Feb. 3, 1946, in Las Vegas, Nev. They had a son, James Allen. Violet and Oscar were divorced.
Violet then married the love of her life, Robley Evans Thomas Jr., on Aug. 10, 1949, in Las Vegas, Nev.
The family lived in San Juan Capistrano and Dana Point, Calif., until 1962, when they moved to Mosier, Ore., where they made their home for many years. They moved to Kelso, Wash., in the late 1970s and later to Ocean Park, Wash.
Besides being a loving wife and mother, Violet was a homemaker and excellent cook, providing her family with wonderful meals. She made the best tacos and tamales. She also enjoyed crochet, and made beautiful afghans for every member of her family.
Violet is survived by five sons: James (Bonnie) Thomas, of Oregon City, Ore., Jack (Eileen) Thomas, of Mosier, Ore., Kenneth (Kaye) Thomas, of Arlington, Ore., Rodney (Trudy) Thomas, of Longview, Wash., and Larry (Linda) Thomas, of Renton, Wash.; 11 grandchildren and 13 great-grandchildren.
A private memorial will be held at a later date. Arrangements were by Columbia Funeral Service.