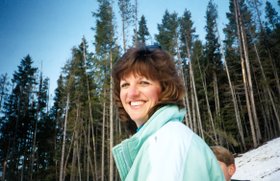 Marcy Leigh Short
April 8, 1955 - January 24, 2011
On Jan. 24, 2011 a beautiful wife, mother, daughter, sister, aunt, grandmother, and friend passed away at her home in Parkdale surrounded by family and friends.
Marcy Leigh Short was born April 8, 1955, in Portland, Ore.
As the middle child, she had quite the drive for achievement. She was interested in cooking from a very early age and she loved learning to cook with her grandma Early on she became a very accomplished cook, as all whom she fed would gladly say.
As she grew up she also developed a passion for plants and gardening. She had the greenest thumb and we all enjoyed her beautiful gardens and arrangements. She had an entrepreneurial spirit and truly became her beloved husband Steve's partner in life as well as in business.
Marcy was blessed with endless energy, a curious mind, and was highly self-educated. She took loving care of Steve, their family, and any friend in need. When it became time for Marcy to be taken care of, Steve, with such sweet love and tenderness, took care of her till the end. Her loving sisters, Tracy and Jane, and daughter, Katie moved in to help him with her care. We are all, family and friends, completely heartbroken to lose her.
Marcy is survived by her husband, Steven Short at their home in Parkdale; son, Elliot; daughters, Amanda, Katie, and Jeni; son-in-laws, Matt, John, and Eric; grandchildren, Danny, Leighton, Lillian, and Luke; parents, Homme and Joyce Mantel; father and mother in laws, Ken and Betty Short; sisters, Jane and Tracy; sister and brother in-laws, Susan, Linda, Henry and Clarke; aunts Florine Weiss and Marianne Furrer; numerous nieces, nephews, and all her beloved friends. Special thanks to Lorie and Sarah.
A service to celebrate Marcy's life and to mourn her passing is planned for 1 p.m. Saturday, Jan. 29, at the Mt. Hood Winery (2882 Van Horn Drive, Hood River).
Arrangements are under the direction of Anderson's Tribute Center (Funerals-Receptions-Cremations) 1401 Belmont Avenue, Hood River, OR97031; 541-386-1000. Please visit www.andersonstributecenter.com to leave a note of condolence for family.
Donations can be made in Marcy's honor to Parkdale Fire Department and/or Hospice of The Gorge (hospiceofthegorge.org).