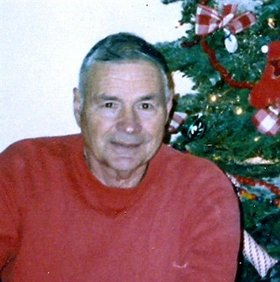 Lee Elmgren
April 9, 1933 - April 20, 2011
Lee Elmgren passed away April 20, 2011, at Providence Brookside Manor in Hood River, Ore. He was born April 9, 1933, in Elma, Wash.
Lee graduated from Aberdeen High School and then served in the Army in the Korean War. He was called home when his father was stricken with polio in 1953 because he was needed to run the family business, Arthur Elmgren Logging Company.
He married his high school sweetheart, Joan Hite, in 1954, and they had one son, Steven. The family moved to the Heights in Hood River in 1957.
When he bought a new home on Sherman Street, it was quite a spectacle to behold, as he had to transport a 20-foot tall and 22-foot long pirate ship from the Heights to Sherman Street - but necessary, because he had made it for his son.
In the mid 1970s, Lee went to work for the Hood River County Public Works Department, where he worked until his retirement in 2000.
He was an avid duck hunter and fisherman; he even rented a duck pond in Mosier annually, so that he and his son Steve could enjoy the sport.
Lee was probably best known for his Golden Delicious Mines at the end of May Street and Frankton, where he hosted several Blossom Days and antique car show events over the years. He had a gift for storytelling and he also had a passion for collecting antiques, especially one-cylinder engines.
He had one of the only working blacksmith shops in the state, and along with that he built a general store, jail house and fire station, complete with a Model T fire truck. He was a favorite in local parades, driving his old 1933 Dodge and fire truck.
Lee is preceded in death by his wife of 49 years, Joan (Joni), and his parents, Roy and Pearl Elmgren.
He is survived by his son, Steven, and daughter-in-law, Valerie, of Hood River; and granddaughters Alison and Taylor, of Hood River, and Leslie John, of Arcadia, Calif. He is also survived by his sister and brother-in-law, Pam and Jim Woodbury, of Monrovia, Calif., nieces Julie Crist and Amy Edwards, and three grand nephews, all from the Los Angeles area.
A memorial service is being planned for this summer; details to follow at a later date.
Arrangements are under the direction of Anderson's Tribute Center (Funerals, Receptions, Cremations), 1401 Belmont Ave., Hood River, OR 97031; 541-386-1000. Please visit www.andersonstributecenter.com to leave a note of condolence for family.