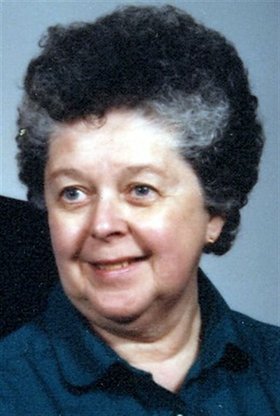 Joan C. Nugent
September 12, 1926 - July 13, 2011
Joan C. (Bell) Nugent, 84, of Eugene, Ore., died July 13, 2011. She was born Sept. 12, 1926, in Hastings, Neb., to Fred and Elsie (Petersen) Christensen.
Joan attended Eugene schools and graduated from Eugene High School. She attended the University of Oregon. During various times of her life she worked as a retail sales clerk, in the University of Oregon ticket office and as a homemaker.
On Aug. 20, 1966, she married James P. Nugent in Eugene. He preceded her in death in 2006.
Joan is survived by her children: sons Chris Bell and Jim Nugent, of Eugene, and Mark Bell, of Hood River, and daughters Jan Krier, of Wilsonville, and Joan Schaaf, of Eugene; sisters Cathy Kaba, of Eugene, and Jean Coyle, of Portland; nine grandchildren and two great-grandchildren.
A memorial Mass will be held at 10:30 a.m. Friday, July 22, at St. Paul Catholic Church, 1201 Satre St., Eugene. A private family inurnment will be held at Mt. Calvary Cemetery.
Remembrances may be made to Sacred Heart Hospice, 1121 Fairfield Ave., Eugene, OR 97402.
Arrangements are under the direction of Musgrove Family Mortuary, 1152 Olive St., Eugene, OR 97401; 541-686-2818; www.musgroves.com.