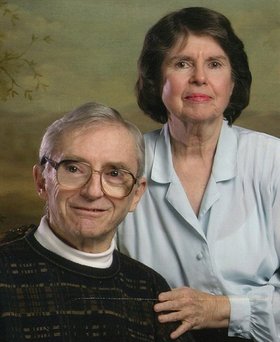 Donald "Don" E. Remlinger
January 10, 1931 - July 13, 2011
Donald E. Remlinger, M.D., age 80, died peacefully, surrounded by the love of his family and the Lord, on July 13, 2011, in Wilsonville, Ore. He was born on Jan. 10, 1931, at home in Portland, Ore., to Elmer F. "Al" and Thelma (Woodin) Remlinger.
Don grew up in Hood River, Ore., attending Hood River High School. He graduated first from Oregon State College with a degree in pharmacy, going on to become a physician at the University of Oregon School of Medicine in Portland, Ore.
He met the love of his life, Mary A. "Molly" McKenzie, in 1951 while at Oregon State and they married on Aug. 29, 1954.
After serving in the U.S. Navy and completing his residency in Portland, he and his young family moved to Eugene, Ore., where he joined his father-in-law, Dr. Thomas A. McKenzie as a partner of the Eugene Hospital and Clinic.
He specialized in internal medicine/cardiology until his career was cut short in 1985 by illness and subsequent life-long disability. Molly provided steadfast loving care for Don throughout his past 26 years. He was well-loved and respected by his fellow physicians, staff and patients.
Don was known as a kind, caring and compassionate son, husband, father, friend, colleague, doctor and human being. His concern extended to the wider world community - he spoke out against nuclear weapon proliferation as a member of Physicians for Social Responsibility. He was a voracious reader. He and his family are longtime members of Central Lutheran Church and believe fervently in God's presence in their lives that has carried them all through challenging circumstances.
He shared his dad's passion for the game of golf, at which they both excelled. He was on both his high school and college golf teams, and, with his dad, won the Oregon Golf Association State Father and Son Tournament in 1953 at Oswego Lake Country Club.
His great love for his family, passion for Northwest history and botany and enjoyment of the outdoors combined in family golfing, biking, hiking, fishing, canoeing, camping, and skiing. We will all remember him as a patient man of quiet strength and determination, a good listener and a wonderful teacher of life skills to his children through both words and action.
He is survived by his loving wife of 57 years, Molly (McKenzie) Remlinger; their children: daughter Carol and her husband, Bob Crosby, of Sammamish, Wash., son Don M. Remlinger and his wife, Barbara, of Lake Oswego, Ore., and son Paul P. Remlinger and his wife, Keke, of Bothell, Wash.; eight grandchildren: Aaron, McKenzie and Tyler Crosby, Nicholas, Andrew and Benjamin Remlinger and Sean and Ethan Remlinger; cousins David and Barbara Keir and Katherine Keir; and many dear relatives and friends.
We would like to give special thanks to the wonderful, caring staff of the Wilsonville and Serenity Hospice of Portland, as well as those in the Eugene and Portland medical communities who cared for Don.
A memorial celebration will be held Friday, July 22, at 1:30 p.m. at Central Lutheran Church, 1857 Potter St., Eugene, Ore, with a reception to follow. In lieu of flowers, the family suggests donations may be made in Don's memory to the OHSU Knight Cancer Institute.