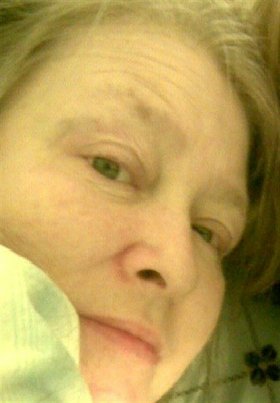 Marjorie "Margie" Ann Kahler
January 12, 1948 - July 17, 2011
Marjorie (Margie) Ann Kahler returned to her Lord and Savior July 17, 2011, in Portland Ore. Margie was born Jan. 12, 1948, in Hood River, Ore., to Zelma Davidson (Chadwick) and John Kahler.
As a child Margie enjoyed spending time with her cousins, attending church and collecting stray animals. Margie was very artistic and enjoyed drawing cartoons. She was an avid Elvis fan and enjoyed music and movies.
In 1967, Margie graduated from Wy'east High School and later received a certificate as a travel agent. Throughout her lifetime Margie worked at the cannery, Winchell's and Encore Video. Margie also worked at the Hood River News for 10 years, until her health began to decline.
During the last few years of her life, Margie enjoyed playing bingo with her friends and going on road trips. She enjoyed seeing her family any chance she received. Margie also enjoyed watching TV and spending time with her daughter.
Margie always made family and God her top priority. She poured everything she had into caring for her parents and daughter, and being a support system for her family and friends.
Margie always said the best day of her life was when her daughter was born. She made it to see her daughter turn 25 this year. Margie had a very big heart and a huge smile. She will be deeply missed.
Margie is survived by her daughter, Laura Kahler, of Portland, Ore.; uncle, Harley Davidson, of Hood River, Ore.; aunt, Gladys Mahoney, of Auburn, Wash.; sister, Brenda Powers, of Portland, Ore.; brothers Kenneth Mitchell, of Montesano, Wash., and John Kahler, of Parkdale, Ore.; and numerous nieces, nephews and cousins. Adopted nieces Kirsten, Kayla and Emily Scobee also survive.
She was preceded in death by her parents, Zelma and Myron Chadwick and John and Freddie Kahler; and a sister, Linda Chadwick.
A celebration of life for Margie will be held Saturday, July 23, at 11 a.m. at Hood River Church of Christ on Tucker Road, followed by a potluck reception. Private family burial will take place at Mt. View Cemetery later that day.
A special thank you to Marquis Care at Vintage Suites, Hospice, and the Church of Christ for the tremendous amount of support and care given to Margie.