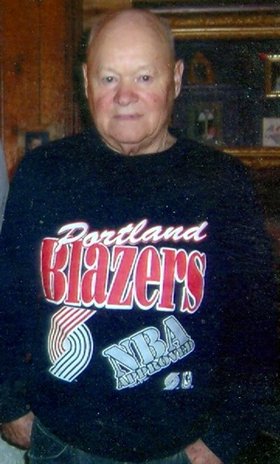 Anton "Tony" Julius Birkenfeld
June 3, 1928 - July 18, 2011
In the early hours of Monday, July 18, 2011, Anton Julius Birkenfeld (Tony), with his eldest daughter by his side, left his strife and worries behind him for a better place.
Tony was the oldest of six children born to August and Anna Birkenfeld. He was born June 3, 1928, in the town of Clatskanie, Ore., where the only area doctor practiced. He lived and grew up on the family farm in Birkenfeld, where his father August built a saw mill and operated a logging business.
The family relocated the logging company to Hood River in 1941. Just a short time later, Tony began working at the family's saw mill which was located at Lindsey Creek. This was the start of what would become a lifelong career for him as a crane engineer.
He loved the outdoors and everything that went with it. You had only to sit with Tony and ask a few questions and it was obvious how knowledgeable and committed he was to the local areas wilderness.
In the month of October 1959, Tony married and began a family with Janice K. Brumfield. Janice brought with her to their union a daughter, Cynthia (Cindy) age 1. Daughter Mellisa (Lisa) joined the family in December of 1959, and Elizabeth (Beth) followed shortly after in February of 1961.
The couple divorced in 1965 and Tony relied heavily on his parents for help with the children until his marriage to Katherine Vaughn in 1968. Tony and Katherine had one daughter, April Sue, born April 11, 1971. The couple struggled to stay together, but finally divorced in 1976.
For nearly a decade to follow, Tony filled his life with family, work and his love of the outdoors. Some of his many loves included hunting, fishing, archery and his coffee stops and an occasional "short beer," with friends at the Tip Top, later known as Thirteen-O-One. A close friend to Tony, Nita McDougal, described Tony as "the number 1 fan" of her weekly karaoke club.
Tony's bachelor days were soon to end, as he met and fell in love with Lucille Emerson. They married on May 19, 1984, and began what was to be a full and wonderful 20-year life together.
Lucy, as everyone called her, had three adult children: Gary Williams, Jan Flynn and Cathy Frazier. Together the couple had six children, 10 grandchildren and five great-grandchildren. More kids were in the cards for these two, as they opened and operated a thriving daycare business that lasted for more than 18 years.
Lucy was great for Tony, making sure he ate well and controlled his diabetes. She was also very social and the couple enjoyed vacationing annually at the coast to dig clams, and spend time with friends there. They also loved to travel to Kah-Nee-Ta where Lucy earned her nickname, "Lucky Lucy."
The couple took a special trip to Disneyland and Knott's Berry Farm with Cathy and her family. While at Knott's Berry Farm they rode the stagecoach, which of course was "held up" by rough and rowdy cowpokes. Tony got a special kick out of this as one of the perpetrators said to Lucy, who was wearing her trade mark Winnie the Pooh shirt, "Hey lady, you've got a little "pooh" on your shirt!" All in all, this turned out to be a once-in-a-lifetime trip for them both and they cherished the memories.
In a sad turn and without warning, Lucy passed away on Sept. 13, 2003. This was a devastating time for Tony who took her passing extremely hard.
Tony was a kind-hearted man who never missed a chance to help someone who needed it. He had many friends, and touched many lives. He will be greatly missed by all his family and friends.
Preceding Tony in death are his parents, August and Anna Birkenfeld; an infant sister, Julia; sister Barbara Gropper; and his wife, Lucille Birkenfeld.
Surviving family include his sisters, Genevieve Dutra, Phoebe Esperas and Gertrude (Trudy) Robertson, and brother Andrew (Andy) Birkenfeld.
He is also survived by daughters Lisa Bailey and her husband, Terry, Beth Deskin and her husband, Terry, stepson Gary Williams, stepdaughter Janice Flynn and stepdaughter Cathy Frazier and her husband, Russ Frazier. Tony had 10 grandchildren and eight great-grandchildren.
A service to honor Tony is planned for 1 p.m. Thursday, July 28, at Anderson's Tribute Center, 1401 Belmont Ave., Hood River, OR 97031; 541-386-1000. Graveside rites will follow after a reception at Mt. View Cemetery. Celebrant speaker Bob Huskey will officiate.
Please visit www.andersonstributecenter.com to leave a note of condolence for family or view the Reflections of Life tribute video for Tony.