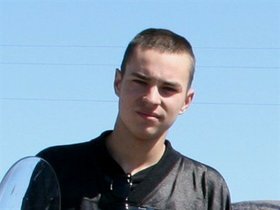 Tate Nathaniel Taylor
October 30, 1992 - July 18, 2011
Tate Nathaniel Taylor passed away July 18, 2011, at the Adventist Medical Center in Portland, Ore.
A celebration of his life was held Friday in Trout Lake, Wash. Tate was born in Milwaukie, Ore., on Oct. 30, 1992. He was 18; it was a short life but he lived it to the fullest.
Tate lived most of his years with his dad, Andrew Taylor. They were a fine pair of readers, learners, travelers, and, most of all, workers.
Tate was a tough kid and hard worker who learned his dad's trade of concrete construction very early. He went out on jobs with his dad practically from birth.
As a toddler, he was the quintessential boy; a kid who loved tools, trucks and big machines. The difference between Tate and most other toddlers is that Tate learned how to use real tools, and to operate the big machines. The job site was his playground, and eventually his workplace.
Tate was an avid reader and loved American history. Motivated by Tate's Klamath Indian heritage, his dad fashioned their travels to perpetuate Tate's love of Americana.
When Tate was 7, father and son took an "American battlefield" road trip across the plains of South Dakota and Montana. Later, they took two separate trips to Southeast Asia, visiting Vietnam, Thailand, the Philippines and his favorite, Cambodia.
Tate loved the big city; he was a small-town country boy, but the city lights of Saigon, Philly, Detroit and Oakland were his passion. His several trips to Mexico and Canada were purely for leisure.
Tate was a devoted Raiders football fan and traveled to Oakland every year for games, with the highlight being the 2002 AFC Championship.
He followed in his dad's footsteps in his love for motorcycles, especially Harleys. At 16, Tate and his dad rode their Harleys to Oakland and the Central Coast on Tate's first solo bike venture; a trip that, of course, included a Raiders Monday night game.
Tate was a gentle soul who was loved by everyone who met him. In the end, he was surrounded by friends and family as he slipped peacefully to be with his mother, Leslie Ray-Taylor.
Tate is survived and loved by his dad, Andy, and sister Desiree Zenor; grandparents, aunts, uncles and cousins, all too many to list. He will be missed by all who knew him.
Arrangements are under the direction of Anderson's Tribute Center (Funerals, Receptions, Cremations), 1401 Belmont Ave., Hood River, OR 97031; 541-386-1000. Please visit www.andersonstributecenter.com to leave a note of condolence for family and view his video tribute.