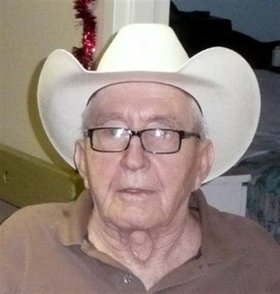 Frank E. Herman
March 21, 1926 - July 22, 2011
A cowboy left on July 22, 2011, to be with his many horses that passed before him. Frank E. Herman was born March 21, 1926, to Frank and Myrtle (Fitch) Herman in Springfield, S.D. He was one of six children born in the family.
The family moved to Aberdeen, S.D., where Frank finished eighth grade and then began working on ranches. He moved to Hood River, Ore., when he was 21 years old. He held a variety of occupations, but spent most of his career and retired from Hood River Electric Co-op.
Frank loved being outside and loved horses. He started the Rough Riders Horse 4-H Club in 1958 and continued as an active leader for almost 50 years. His close friend Virginia Reynolds helped Frank lead the club in the early years and together they made a positive impact for many club members and their parents.
Frank was a man of honor and true to his word. He was an inspiration and made people feel welcome in his presence. He definitely liked to talk and be social.
He was the president of the Hood River County 4-H Horse Leaders Association for several years and timed the gaming events at the Wasco County Fair for many years. He was a very active member in the Hood River Saddle Club and enjoyed helping with any and all activities.
His knowledge and love of horses was known by everyone involved in horses from Hood River to Hermiston and east to Madras. If anyone needed to know something about horses, they always went to Frank.
He enjoyed going to the Hermiston horse sale where he usually ended up bringing a new horse home. His favorite horse was Piet; he gamed (barrel racing, pole bending, etc.) and won a lot of trophies with her.
Frank had owned many horses whose offspring he enjoyed breeding, raising and training. The number of trophies he won are proudly displayed in his home.
Frank touched the lives of many young riders through 4-H and continued teaching them until their adulthood. He not only taught young people about riding but about being a good person.
Former 4-H members always came and visited Frank as adults at the Hood River County Fair where he camped every year until 2006. Lynne Moore was one of his young members who grew up and became his assistant leader; they led together for 25 years.
Frank had a passion and that passion was kids and horses.
On Aug. 19, 1951, he married Luella Van Riper and they had two sons, Gordon and Donnie. They made their home on 10 acres on Glass Road in Pine Grove.
Frank belonged to the Pine Grove Grange where he actively participated in the happenings there. Frank's last horse Doll (his Tennessee Walker) still lives there and Frank's grandson Milo rides her now.
Frank's favorite little buddy was his grandson Milo; the two were inseparable. From the time Milo could walk, he was at his Papa's heels. Even toward the end of his life he always asked about his "little buddy."
Frank is survived by his wife, Luella; son Gordie; son Don and his wife, Wendy, and their children, Kara, Tommy, Milo and Madee; his brother, Dale, and his wife, Carol Herman, and sister, Audrey Herman Fassbender.
He was preceded in death by his parents, Frank and Myrtle Herman, brother Milo Herman and sisters Oris Herman and Vivian Herman.
The family wishes to have donations made to the Heart of Hospice Foundation in memory of Frank (205 Wasco Loop, Suite 202, Hood River, OR 97031). The family also wishes to thank the many caregivers from Heart of Hospice and the Hood River Care Center.
A graveside service was held Monday, July 25, at the Pine Grove Cemetery.
Arrangements are under the direction of Anderson's Tribute Center (Funerals, Receptions, Cremations), 1401 Belmont Ave., Hood River, OR 97031; 541-386-1000. Please visit www.andersonstributecenter.com to leave a note of condolence for family.