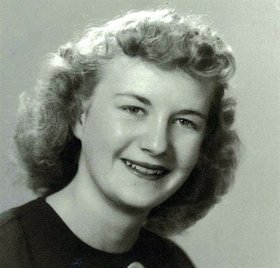 Jacqueline Dorothy Cole
December 10, 1928 - July 17, 2011
Jacqueline Dorothy Finch Cole, 82, passed away July 17, 2011, at home surrounded by her family. Jackie was the first child born to Jack and Dorothy Roller Finch on Dec. 10, 1928, in Spokane, Wash. She passed away after a short illness of esophagus cancer.
As a young girl Jackie and her family lived in many places around the Pacific Northwest while her father furthered his education and became a teacher and ultimately was named in the Who's Who of American Educators.
Jackie told stories of her growing up years where the family was poor but resourceful. Her mother became expert at preparing specialty dishes using split peas as a sandwich filling, as a soup and as side dishes with biscuits.
Early in her life her parents instilled a strong work ethic in their children and an even stronger belief that "if it's worth doing, it's worth doing WELL."
Jackie attended public schools in Idaho and Washington and even visited the Pribilof Islands, where her father was teaching in a remote school for native Eskimo children. She attended high school at The Academy, a Catholic boarding school in Vancouver, Wash.
After graduation she held several jobs; as a carhop at the Jantzen Beach Waddle's, then as a store clerk, and later as a telephone operator.
On Dec. 14, 1949, Jackie married Ronald M. Cole of Stevenson, Wash. They lived in Eugene and Pasco, then moved to The Dalles. That is where Jackie helped Ron establish their sign business as they raised their four sons, Randy, Mike, Rick and Russell.
In about 1970 Jackie went to work for Abundant Foods with the State of Oregon then moved on to work with Adult and Family Services Division, State of Oregon, as a caseworker until her retirement in 1989.
Jackie loved the out-of-doors. She hunted, fished, camped out and, true to her rearing, everything she did she did well.
She was an accomplished cook and seamstress and taught herself how to upholster furniture. She canned and preserved foods for her family, taught her boys how to cook, hunt and fish and was an avid mushroom hunter.
Jackie also loved music and would invite all her friends and family to her house on Mosier Creek for potluck barbecues and sing-alongs on the banks of the creek. She had song books for everyone, and anyone who could play an instrument of any kind, including "spoons" slapped together, were welcome to join in the "band."
Jackie is survived by her children, Rick and his wife, Debbie, Mike and his wife, Laurie, and Russ and his wife, Joetta; siblings Nancy and John; nine grandchildren and five great grandchildren.
She is preceded in death by her ex-husband, Ronald M. Cole, son Randy Cole, parents, Jack and Dorothy Finch, and brother Mike.
A potluck celebration of Jackie's life will be held July 30 at 4 p.m. at 1139 Highway 141, White Salmon, Wash. Interment will be at the family plot in Spokane, Wash.