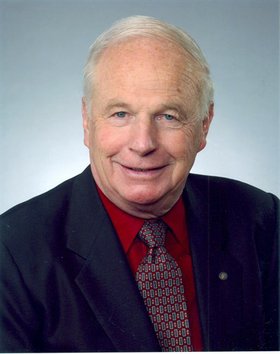 Richard A. Nafsinger
December 6, 1933 - July 23, 2011
Longtime newspaperman Richard A. Nafsinger (Dick) passed away Saturday, July 23, 2011, at home surrounded by family members. He was 77. Dick was born Dec. 6, 1933, in Nampa, Idaho; he was the youngest of four children of Harry O. and Grace Nafsinger.
Dick's dad died when Dick was a youngster and he grew up quickly, helping his older brothers tend to the family farm. Dick was drawn to journalism at Caldwell High School, where he was sports editor of the student newspaper, the Canyon Cougar. He was custodian of the Ida White Chapter of Quill and Scroll, an international honor society for journalism students.
Dick also was a member of the school's National Honor Society, senior class president and associated student body sergeant of arms. He was a three-sport athlete in high school, excelling on the school football team as co-captain and starting halfback.
Despite his busy academic and athletic schedule, he did find time to socialize. He started dating Phyllis Myers during their senior year at Caldwell High. They graduated together in 1952, married in 1953 and celebrated 60 years together "as a couple" earlier this year.
Dick attended College of Idaho and while there was drawn to radio. He served as a disc jockey for station KCID and also did play-by-play at sporting events.
Dick began his professional newspaper career in 1957, when he was hired as sports editor of the Albany Democrat-Herald. His professional demeanor quickly gained him respect among the coaches and teams he covered. He took that to another level when the newspaper appointed him as its managing editor a short time later.
He was hired as editor and publisher of the Hood River News in 1962 at age 28. For the next 29 years, Dick built the News into a nationally recognized newspaper and parlayed his own career into national prominence, as well. During that time the News was voted the top newspaper in both Oregon and the United States on several occasions.
He was selected as president of the Oregon Newspaper Publishers Association in 1972. In 1986-87 he was selected as president of the National Newspaper Association. He also was a past chairman of the American Newspaper Representatives.
Dick was president and chief operating officer of Eagle Newspapers Inc. from 1978 until his retirement in 2001, and remained on the board of directors until his death. ENI is a family-owned corporation that operates 26 publishing, printing and related businesses in Oregon, Washington and Idaho.
In 1986 he received the ONPA's Amos E. Voorhies Award, which honors outstanding journalistic achievement in the public interest, service in the interest of the welfare and honor of the journalistic profession or long, useful and honorable careers in the field of journalism.
Dick received the ONPA's president's award in 1996; was voted an honorary life member in 2001 and was inducted into the Oregon Newspaper Hall of Fame in 2002.
Last fall, Dick was the recipient of the National Newspaper Association's highest award for distinguished service and leadership to the community press and their community, the James O. Amos Award. He remained active in national newspaper affairs long after he retired as News publisher, and often was sought out by his peers for advice on journalism issues.
Dick was a longtime member of the Elks Club, joining in Caldwell in 1956. He remained active in Hood River Elks, especially in his 30s and 40s, when he became a skilled handball player.
Dick also was active in Hood River Rotary, joining in 1963; he was president of the club in 1971-72 and especially enjoyed his role as a mentor to local children in the Lunch Buddy program. He was recipient of the Paul Harris Fellowship for club work and served on the Rotary Foundation board.
Dick was a devoted outdoorsman and hunter; he was a member of Ducks Unlimited and a member in good standing of the National Rifle Association. Heart surgery and hip surgery eventually ended his handball and golf games, but Dick continued to enjoy a good walk in the wilderness with his hunting friends for a long time thereafter.
Dick and Phyllis were members of Riverside Community Church in downtown Hood River. His handprint can be found on varied aspects of the Hood River community.
He has been recognized numerous times for his civic activities enhancing the quality of life in the valley, including founding the Hood River Improvement Company and spearheading the hospital foundation's fundraising drive for a kidney dialysis center. He held leadership positions on the school board and hospital foundation. He also helped start Hood River County Bank (today part of Key Bank) and served on its board of directors.
On the state level he was also active in business affairs, serving as a director of Associated Oregon Industries and Oregon Tax Research.
Dick was preceded in death by brothers Bill and Jim and sister Eleanor.
Survivors include Phyllis and their children: Janie Nafsinger and her husband, Jim Clark, of Portland; Nancy Clarke and her husband, Keith Clarke, of Hood River; John Nafsinger, of Santa Monica, Calif.; and Pam Nafsinger and her husband, Michael Bernas, of Portland.
Other survivors are grandchildren Angela Wallis, Greg Clarke, Alexander Walentin and Lydia Sandys-Winsch.
Extended family, something Dick valued immensely, includes John and Linda (Phyllis' younger sister) Acarregui, who, like the Nafsingers, were Caldwell High sweethearts and have remained close to the family over the years.
A service to honor Dick is planned for 1 p.m. Saturday, July 30, at Hood River Alliance Church, 2650 W. Montello Ave. Reverend Ann Duffy will preside over the service. Contributions in Dick's memory may be made to the American Heart Association or American Lung Association.
Arrangements are under the direction of Anderson's Tribute Center; 541-386-1000. Please visit www.andersonstributecenter.com to leave a note of condolence for family.