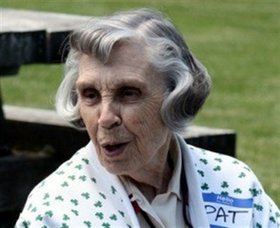 Patricia "Pat" Reilly Cornett
June 13, 1917 - July 23, 2011
Patricia "Pat" Reilly Cornett, 94, died Saturday, July 23, 2011, at Parkhurst House in Hood River, Ore. She was born at home on June 13, 1917, to parents Robert and Margarite Reilly in Parkdale, Ore.
Pat had many happy memories of growing up in the upper Hood River Valley, including winter rides to school in a horse-drawn wagon with a charcoal brazier to keep the children warm. Her family survived the Great Depression, though they lost their orchard.
Pat's father, Bob, was a fruit inspector for many years, and her mother Rita worked packing fruit in season.
After graduating from high school in Parkdale, Pat attended Oregon State College where she lived in a "co-op" house with women who became life-long friends. She graduated in 1939 with a degree in home economics and on Sept. 3, 1939, married Elgin M. Cornett of Prineville at the Community Church in Parkdale.
Fifty years later, on Sept. 3, 1989, Elgin and Pat recreated their vows at the same church, using the same attendant, soloist and photographer, and with Pat wearing the wedding dress she had made 50 years earlier!
Elgin's career as a county extension agent took the young couple around Oregon. Over the next years they lived in Enterprise, The Dalles, Milton Freewater, Lakeview and Bend. Along the way four children were born who enjoyed many traveling and camping adventures with Elgin and Pat.
After the children were older Pat became a teacher. She taught grades four through eight at the two-room Pratt School outside Enterprise, and later became a junior high science teacher. To this day many of her students remember her as a strict teacher, but one of the best they ever learned from.
In 1967 the Cornetts embarked on their biggest adventure yet, when Elgin took a job in Kenya, East Africa. Over the next decade they lived in Kenya, Iran, Lesotho and New York City (which they considered another "foreign" adventure).
In all, their travels took them to more than 30 countries on six continents. Pat took great joy in remembering the many interesting people and international experiences of her life.
After retiring in Hood River, Pat was active in community life, including serving as a board member and president of the Hood River Historical Museum and the Hood River County Historical Society for many years. She and Elgin loved to garden and camp.
After Elgin's death Pat lived independently for eight years supported by a remarkable group of friends and family. All were amazed at her ability to overcome major health challenges and loss of vision with strength and equanimity.
Pat is survived by her brother, Ed Reilly; four children: Jerry, Dan, Fred (Allison) and Kathleen (Steve Grove); former daughters-in-law Joanne and Terry Cornett; grandchildren Michael Harshfield, Sherri, Ben and Andy Cornett and Jackson Grove; and great grandchildren Jude, Brady, Ada and Drew Cornett.
Her husband, Elgin Cornett, died on Sept. 18, 2001.
A funeral service will be held at 1 p.m. on Wednesday, Aug. 3, at Anderson's Tribute Center. Pat requested that those wishing to make memorial gifts name the Hutson Museum in Parkdale or the Hood River County Historical Society Memorial Fund.
Arrangements are under the direction of Anderson's Tribute Center (Funerals, Receptions, Cremations), 1401 Belmont Ave., Hood River, OR 97031; 541-386-1000.
Please visit www.andersonstributecenter.com to leave a note of condolence for family.