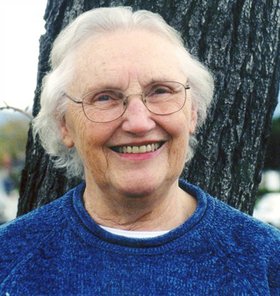 Lois Stofft Johnsen
June 2, 1930 - May 7, 2011
Lois Stofft Johnsen, a 38-year resident of Santa Clara County, passed away in the early morning hours of Saturday the 7th of May, 2011, with her husband by her side. She had been under hospice care in Los Altos, Calif., following post-op complications from surgery on Feb. 2, 2011, to remove a brain tumor.
Born June 2, 1930, in Baker, Ore., Lois Elaine Stofft was the younger sister of Paul William Stofft and the daughter of William and Ruth (Durkee) Stofft who owned the corner grocery in downtown Baker (all predeceased).
As an unpretentious student at Baker High she enjoyed orchestra, playing the cello, and glee club. In June, 1950 she earned an associate degree in secretarial science from Eastern Oregon College in La Grande, Ore.
Lois married Albert Charles Johnsen, a native of Hood River, Ore., on June 25, 1950 - a date shared with the start of the Korean War. Lois also married into the family business since Al was the third generation in the family working and managing the Johnsen Shoe Store, located at 305 Oak St., Hood River.
The original shoemaker, John Christian Johnsen, and his wife, Annie (Al's grandparents), founded the business and had been serving the Hood River Valley since 1908. Besides helping out at the store, Lois also worked as a seasonal fruit worker for Duckwall's Hood River Pears.
Three daughters were born in Hood River before the family relocated several times; first to Portland, Ore., then to Albuquerque, N.M., Denver, Colo., and six years in Kansas City, Mo., where a fourth daughter was born. They returned to Oregon for another couple of years before settling in Santa Clara and San Jose.
The youngest daughter swam for the Santa Clara Aquamaids for six years and Lois quickly became involved in fundraising bingo nights each week and sometimes joined the team as a chaperone for out-of-town swim meets.
After raising her daughters, Lois went back to school - but this time working in the Young Parents Center (YPC) at Wilson High School, a special program for the Santa Clara Unified School District. The YPC program helps parenting and pregnant teens progress toward a high-school diploma. Difficult but rewarding work, Lois was involved with the program for 10-plus years before her retirement.
A proud member of the Santa Clara Historical and Genealogical Society, Lois served on the board as its second vice president for the 2001-02 term. She was also a lifetime member of the Baker County Historical Society and a member of the Society of Genealogy of Durkee.
She spent much of the last decade rediscovering her varied heritage - German, Swedish, Irish, English, French Canadian and Ottawa Indian. Two of her great-grandfathers participated in the Civil War, Stephen Durkee and Obediah Crane.
Durkee was a member of the Iron Brigade who was injured in and survived the battle of Gettysburg. Another great-grandfather, Wesley Fletcher, and his parents farmed in Pajaro Valley south of Santa Cruz in the California Gold Rush days.
Lois and Al also joined the Sons of Norway, Nordahl Grieg Lodge 6-52, Los Gatos, Calif. They enjoyed lodge meetings, held the position of Greeters for a year and even took up learning Norwegian. Lois had also been a member of the Order of Eastern Star, Hood River Chapter #25, as well as a "Rainbow Girl" for many years of her youth in Baker.
An avid sports spectator, Lois was versed in most sports and could hold her own in discussing tennis, football, racing, golf, etc. Early married life would include card games at friends' houses, pinochle and bridge, dancing dates with her husband and jigsaw puzzles, board games and Yahtzee with the kids. Lois was the family seamstress and also knitted, embroidered, worked with ceramics and other crafts. She was also comfortable with outdoor activities such as camping, huckleberry picking, clam digging, swimming, skiing and more.
Lois' maternal grandmother, Mabel Durkee, owned The Needlecraft Shop in downtown Baker, where supplies and classes were offered and a granddaughter was inspired. Her mother-in-law, Luella Nielsen Johnsen (Hukari), was another influence with the uncanny ability to teach a "lefty" how to do any needlecraft project.
Lois is survived by her husband of 61 years, Albert C. Johnsen; her four daughters, Janet J. Brown and her husband, F. Quincy (El Dorado Hills, Calif.), Rebecca Johnsen (San Jose, Calif.), Joanne J. Riske and her husband, Al (Sunnyvale, Calif.), and Gretchen Clark and her husband, Alan (Phoenix, Ariz.); three grandchildren: Nicholas Q. Brown and his wife, Brittany (Tacoma, Wash.), Avalon Clark and Holiday Clark (Phoenix, Ariz.); her sister-in-law, Joyce Stofft (Raleigh, N.C.); and her brother-in-law, Edgar Johnsen (Salem, Ore.).
Memorial services will be held Thursday, June 2, at noon in the Reflections Room at Los Gatos Memorial Park, 2255 Los Gatos-Almaden Road, San Jose, CA 95124; 408-356-4151.
A zest for life, a warm, tender heart and a beautiful smile graced Lois throughout her life. Lois would love the idea that family and friends remember her by donating to their favorite charity in her name and by doing something generous for someone they love.