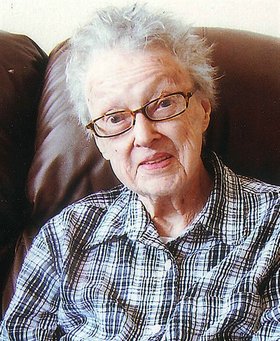 Eva Marie Windham
October 2, 1912 - May 23, 2011
Eva Marie Flint Murray Windham passed away May 23, 2011, in Denver, Colo. She was born in Dee, Ore., on Oct. 2, 1912, and lived in Hood River for 88 of her 98 years.
She is survived by her daughter, Christie, and beloved son-in-law, John Faires, of Aurora, Colo.; sister-in-law, Luanna Flint, of Hood River; nieces and nephews Diane and John Kerr, of The Dalles, Doreen Flint, of California, Doug and Edie Flint, of Florida, Leslie and Dick Gohlman, of Arizona, and Judee Flint, of Mosier.
She was preceded in death by her parents, Anton and Minnie Flint; brothers Howard, Leland and Robert Flint; and sisters Lottie Farra and Verna Davey.
Eva loved reading, crossword puzzles, gardening, ice cream, watching football and golf and Bud Light. She missed her many friends and family in Oregon and often spoke of seeing Mount Hood again.
Eva worked for many years at Wirrick's Variety Store and she retired from the United Telephone Company as a long-distance operator. She was also a member of the American Legion Auxiliary and the Riverside Community Church.
Ten years ago, when her health required family assistance, she moved from Hood River to live with her daughter and son-in-law in Maryland, then moved with them to California, and then to Denver.
For years Eva was the picture of great health. Never having a driver's license, Eva would walk to work, the grocery store, church and to other activities. Even in retirement a walk of 3 miles daily was not uncommon while in her 80s.
She was a remarkable mother and friend and will be missed by all who knew and loved her.
Cremation took place in Denver and interment will be at Idlewilde Cemetery in a private family service to be held at a later date. The family has asked that in lieu of flowers, if you wish to remember Eva, please hug someone you love.