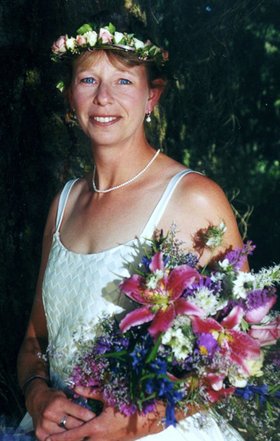 Nancy "Nance" Anne Napp
February 3, 1964 - March 27, 2011
Nancy Anne "Nance" Napp, 47, died Sunday, March 27, 2011, at her home in Parkdale, Ore. Nancy was born on Feb. 3, 1964, in Sun Prairie, Wis., to Charles and Ruth Napp.
Nance grew up in Sun Prairie and graduated from Sun Prairie High School in 1982. She received her bachelor's degree in botany from the University of Wisconsin Madison and did graduate work at Colorado State in Fort Collins, Colo. She moved to Parkdale, Ore., where she married Wesley Lapp.
Nancy worked as a botanist for the Nature Conservancy and the U.S. Forest Service, and in the last 10 years ran her own business as an environmental consultant, restoring and conserving wetlands.
Nancy loved and enjoyed our planet. She was an avid hiker, telemark and cross country skier, yoga practitioner, mountain biker and free diver who could hold her breath for 5 minutes. She reveled in the beauty of the natural world around her, sharing it with and teaching it to her 6-year-old daughter, Zan, who knows the Latin names of dozens of plants.
She is survived by her husband, Wesley Lapp, daughter Zan, mother Ruth J. Napp, three brothers: Jerome (Pam) Napp, Chris (Elaine) Napp and Andrew Napp; three sisters: Amy (David) Dryer, Jane Austin and Elle (K.C.) Schaeffer; five nephews, four nieces; cousins by the dozens, aunts, uncles and enough best friends to fill a book.
Her father, Charles P. Napp, preceded her in death.
A fit and health-conscious person, Nancy was surprised when last year she received the diagnosis of anal cancer, which affects about 4,000 people annually. She was even more surprised to learn of the stigma attached to this type of cancer, which is often associated with anal sex.
She learned not to be afraid to tell people about her diagnosis and started a blog recording her experience, which she made public in an effort to share with and educate others. Her blog can be viewed at:
http://www.caringbridge.org/visit/nancenapp/journal/1
Wes and Zan Lapp would like to thank Nancy's close friends and the community who provided love, support, financial aid, food and everything else we needed. Nancy died peacefully in her home surrounded by family and friends with loving support from Hood River Heart of Hospice.
Memorial donations to the nonprofit Columbia Gorge Ecology Institute (Nancy Napp Restoration Fund) can be sent to CGEI, P.O. Box 1104, Hood River, OR 97031.
A day of celebration honoring Nancy's life and work will be held Saturday, June 11. Please email nnapp@gorge.net for details.