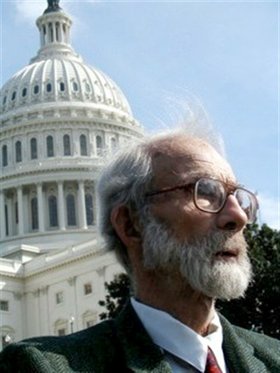 David Cameron Duncombe
July 14, 1928 - June 11, 2011
David Cameron Duncombe died at his home in White Salmon, Wash., in the care of his family and Hospice of the Gorge on Saturday, June 11, 2011. One of three children, he was born July 14, 1928, in New York City to H.S. Duncombe, a lawyer and Army officer, and Frances Riker Duncombe, an artist and children's book writer.
David grew up and went to public school in Katonah, N.Y., where he met and married his wife of 47 years, Sally Morton Duncombe, in 1958. They had three children.
After two tours of duty in the Army in Europe, he returned to Dartmouth College, beginning a long career in ministry and higher education; first at Yale University and then at the University of California in San Francisco, becoming a chaplain to medical students and a teacher of chaplains at both institutions. He was ordained to the ministry in the United Church of Christ in 1958.
David was perhaps better known in later life as a part-time social activist.
In the early 1960s he worked briefly with Martin Luther King's organization registering voters. Passionate about social justice, he was arrested numerous times in the San Francisco area for blocking munitions trains and trucks bound for Central America. Following a few brief incarcerations, he and Sally moved to White Salmon for retirement.
David has been more recently known for his long political fasts; the last three being in Washington, D.C., supporting debt relief for impoverished nations.
He was preceded in death by his wife, Sally, his brother Sydney and his sister Cynthia.
Surviving him are his children: Betsy, of Kauai, Hawaii, Jane, of Mt. Hood, Ore., and Steve, of New York, N.Y. He leaves four grandchildren: Lila Duncombe-Lieber, Elle Duncombe-Mills and Sydney and Sebastian Railla-Duncombe.
It was David's wish that his body be used for medical dissection, as he had spent the last 25 years of his working life as a part-time lab assistant in medical schools.
A memorial service will be held at 5 p.m. Friday, June 17, at Riverside Community Church, 317 State St., Hood River, Ore.
Memorial contributions may be made to Hospice of the Gorge or to your favorite social justice charity in care of Anderson's.
Arrangements are under the direction of Anderson's Tribute Center (Funerals, Receptions, Cremations), 1401 Belmont Ave., Hood River, OR 97031; 541-386-1000. Please visit www.andersonstributecenter.com to leave a note of condolence for family.