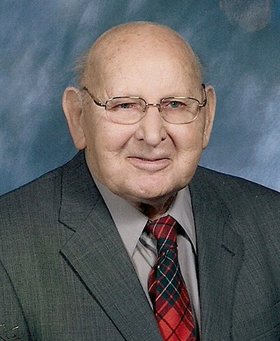 James "Jim" B. Menefee
December 13, 1917 - June 12, 2011
James B. "Jim" Menefee passed away quite suddenly but peacefully June 12, 2011, at the Oregon Veterans' Home in The Dalles. He was 93 years old. Jim was born Dec. 13, 1917, to Edith and Roy Menefee at their home in Keota, Iowa. His older sister Arlene preceded him in death.
While attending high school and college at the University of Iowa, Jim ran track, played football and participated in wrestling. In any free time he helped on the farm where he lived with his uncle, since both parents died when James was very young.
In 1941 he married his wife of 62 years, Faye Fuller Menefee. Shortly after, Jim entered the service and they moved to Trinidad, Colo., where his daughter Patricia was born. Jim was then sent to England and France during World War II.
Faye came to Hood River, Ore., in 1945 and Jim joined her there after his discharge from the United States Army at Ft. Lewis, Wash. They purchased a home in Oak Grove and in 1948 their daughter Victoria was born. They lived in their home for 57 years, except for four years, when he was manager of the Farmers Co-op in Sheridan, Ore., and Tonasket, Wash.
Upon his return to Hood River, Jim worked at the hardboard plant for Champion Products. Later he became the business agent for International Woodworkers union. He purchased a cherry orchard in Oak Grove and ran it during his "off time." Jim's two grandsons, Danny and Jim, "helped" during the picking season and learned his great work ethic.
Jim and Faye were members of the Valley Christian Church, where he sang in the choir. He also sang at several weddings and with a barber shop quartet. Jim became a Boy Scout master even though he had no sons of his own. He was also a member of the Elks, American Legion, Eagles, Kiwanis, Farm Bureau and the Oak Grove water board, and worked toward installing the bell in the Oak Grove Park.
He also spent many hours helping with the civil defense preparedness. Jim was seen at his daughters' various activities but much preferred watching the local football games.
Jim was always ready with a helping hand for friends and neighbors. He was even seen peeling apples for pies that were served during blossom festival.
Jim loved Christmas and decorated the Oak Grove home extensively adding music that could be heard throughout the neighborhood. Visitors enjoyed his Christmas Village.
Jim and Faye loved to travel with an occasional stop at the casinos. They purchased an RV and traveled alone and with friends to Canada and Mexico. They were also members of Thousand Trails and stayed at many RV sites over a period of many years.
He also liked to go fishing and in his early years would go hunting. Jim also became very proficient at stained glass making and sharing his projects with his family.
After Faye's death in 2004, Jim moved to Down Manor and continued to make friends and be involved. After breaking both hips, he moved to the Oregon Veterans' Home. His family would like to thank the staff there for the loving care that he received during Jim's last years. The staff remembers Jim for his ready smile and humor.
Jim in survived by his daughter Pat Young and her husband, Dave, of Half Moon Bay, Calif., daughter Victoria MacKenzie and her husband, Alexander, of Vancouver, Wash.; granddaughter Elizabeth McFadden and her husband, Brad, of Longview, Wash.; grandsons Jim Young and Leanne, of San Francisco, Calif., Danny Young and his wife, Julie; and his great-grandchildren Karla, David and Daniel Young, all from Palmdale, Calif.
A celebration of his life will be held at a later date.