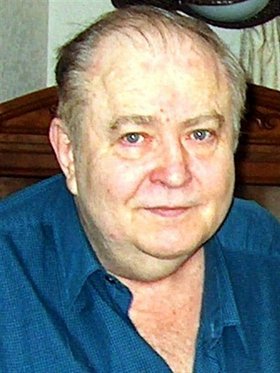 Ronald Dean Ward
May 3, 1946 - June 13, 2011
Ronald Dean Ward died in his sleep at his home in Juneau, Alaska, June 13, 2011. He was born May 3, 1946, in San Mateo, Calif. He was the first of four children born to Maynard and Mary White Ward.
Ron enjoyed a variety of interests that were mostly related to outdoor activities. In 1955, after time spent in Alaska and California, his family settled in Odell, Hood River County, Oregon, where his mother was born and raised. Ron was 9.
Middle Mountain, called Gilhouley, was a vast playground for him and his buddies to explore, and encounter the plentiful wildlife of the wooded hills. Scouting and 4-H were a perfect fit. Summer strawberry picking earned him a Schwinn bike.
At 14, after graduating from Mid Valley School, Ron traveled alone by train to Oakley, Kansas, to spend the summer with an uncle's family, on their wheat ranch. There he learned mechanics, how to drive truck and operate farm machinery. Back in Odell, he picked pears and apples. Being experienced with tractors, he was hired to do other orchard work.
During high school, he excelled in ski races. Scuba diving in the Columbia became a passion as did building, flying and crashing remote-controlled model planes. He also became a ham radio operator.
Ron graduated from Wy'east High School in 1964. He obtained a welding certificate and worked for Nichols Boat Works. In October of 1964, Martha Peck became his wife. They moved to Bend, where Ron welded farm equipment. His father taught him TV repair.
Marti and Ron's first son was born in Bend. In 1967 they moved to The Dalles, where Ron went to work for Sears, doing TV and appliance repair. Son James was born there.
After a transfer to Lewiston, Idaho, where Ron experienced hands-on flying, as well as all the great hunting and fishing, he applied for a transfer to Juneau, Alaska. Their third son, Michael, was an infant in 1970, when they made that final move.
As time passed, Ron joined Juneau Search and Rescue as a radio operator, became a licensed pilot, was a volunteer medic fireman and owned his own electronic repair business, making service calls to outlying areas in his float plane. He serviced the U.S. Coast Guard communication systems. Chartered helicopters took him to the mountaintop sites.
In time he gained a commercial helicopter pilot license and used his own small helicopter for many of the mountaintop trips. He crisscrossed the state in his plane with a Coast Guard companion, recording a grid pattern of radio signals with various antennas. He always volunteered with his boat or plane for rescue missions.
Ron found time to hunt, fish and trap or transport others to do the same, landing on lakes or beaches. With his work and activities he made many friends and had many experiences. A glider plane crash, when the tow plane ran out of gas, was the beginning of back problems. A heat inversion caused him to roll his first helicopter, resulting in additional back injury.
As back problems increased, Ron gradually retired. His sons Rob and Jim joined the business and now manage Color Vue in Juneau, Alaska.
Ron's father died in 2010. Ron is survived by his mother, Mary Ward, of Odell, Ore.; his three sons, Robert Ward and his wife, June and granddaughter Katie Ward; son James Ward; son Michael Ward; grandson, James Ward; granddaughter Michelle Ward, all of Juneau, Alaska; sisters Nancy Steele, of Hood River, Ore., and Barbara Mathis, of Hermiston, Ore.; brother John Ward, of Craig, Alaska; an uncle, Lawrence White, of Kalispell, Mont.; an aunt, Neva Allen, of Bell Gardens, Calif.; and many cousins, nieces and nephews.
Friends and family will celebrate Ron's life on Tuesday, June 21, at 6 p.m., at the Church of Jesus Christ of Latter-day Saints, at 18th and May streets in Hood River.