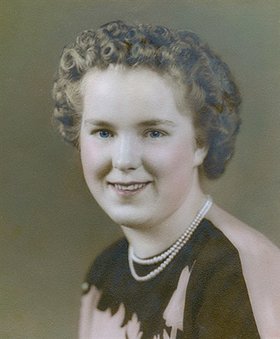 Winifred "Winnie" Lenore Moe
July 22, 1930 - June 16, 2011
Winifred Lenore Moe, "Winnie," 80, passed away June 16, 2011, at Providence Brookside Manor. She was born Winifred Lenore Hokanson on July 22, 1930, in Moscow, Idaho, to parents Oscar and Mary Hokanson.
She was raised on the family farm in Troy, Idaho, along with her brothers and sister. Winnie graduated from Troy High School in 1948 and was valedictorian of her class. After graduating high school, she attended the University of Idaho where she earned her Bachelor of Arts in English, then continued on to the University of Oregon where she completed her Master of Library Science degree.
Winnie began her teaching career right after college in Gooding, Idaho, where she taught for one year before moving to Hood River seeking better pay. She spent the rest of her time teaching English classes at the old Hood River High School.
Winnie met the love of her life, Fred Moe, while she was coaching a bowling team at the local bowling alley. They were married March 9, 1957, in Hood River, Ore. They were married nearly 50 years at the time of Fred's passing in 2005.
Winnie retired from teaching at the high school around 1975 to raise their children and to help Fred with the family's successful orchard business. She stayed active with her love of teaching and children by volunteering as a Cub Scout leader, and she also taught crocheting classes through the Hood River Community Education program.
Winnie was an avid gardener and took pride in the large assortment of beautiful flowers and shrubs at the family home. You could always find her best flowers, vegetables and fruits entered at the Hood River County Fair, usually with a blue ribbon prize. She was also an active member of the Oregon Garden Club as well as the Odell Garden Club for many years.
She was a longtime member of the Odell United Methodist Church, taught her share of Sunday school classes and was a member of the Sunset Women's Group at the church where she volunteered her time on numerous projects for nearly 30 years.
Winnie loved to travel with Fred, and they visited many different places, such as Russia, Central and South America, Egypt and some other European countries as well. She also loved to visit old homesteads and antique stores in search of old bottles, Mason jars and collectible glass.
Winnie was dedicated and hard-working, and continued to find ways to teach and encourage long after her retirement.
She is survived by daughter Julie Moe; son Dwight Moe and his wife, Jackie; grandson Jonathan, all of Hood River; granddaughter Taryn Norton, her husband Terry and great-granddaughters Aubrie and Alexis, all of The Dalles; sister Wilma Pauley and her husband, Bob, of Hastings, Neb.; and brother Allan Hokanson and his wife, Rickie, of Hermiston, Ore.
Winnie was preceded in death by two sons, her brother Ken and her husband, Fred.
Funeral services will be held Friday, June 24, at 11 a.m. at the Odell United Methodist Church with a reception to follow. Graveside rites will follow at Idlewilde Cemetery.
Visitation hours are on Thursday from 9 a.m. to 4 p.m. at Anderson's Tribute Center (Funerals, Receptions, Cremations), 1401 Belmont Ave., Hood River, OR 97031; 541-386-1000.
Memorial contributions may be made to the Odell United Methodist Church or the Odell Volunteer Fire Department.
Please visit www.andersonstributecenter.com to leave a note of condolence for family.