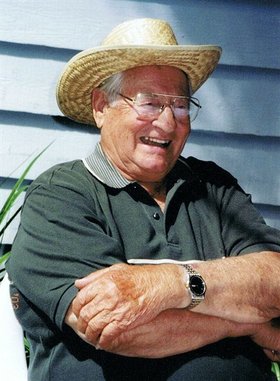 Alfred Arthur Perreault
February 17, 1918 - February 18, 2011
Alfred Arthur Perreault, 93, a resident of The Dalles, Ore., passed away at his home on Friday, Feb. 18, 2011. He was born (and raised) on a farm in Terrebonne, Minn., on Feb. 17, 1918, the third-eldest of eight siblings to Joseph F. and Aurora M. (Cardinal) Perreault.
As a young man not wanting to farm for a living, he joined the 3-C's working three seasons before joining the U.S. Army, serving five and a half years, stationed in the United States and Europe.
After returning home from the service, he met and married his wife of 62 years, Doris Houle, in 1948. In 1949 a son, Stephen, was born; later in 1952 a daughter, Jacqueline, was born.
The family moved to Washington state, where Alfred started his long career in heavy construction and later making the move to Oregon.
Alfred spent most of his working years building dams, bridges and other large projects. He worked on many of the dams on the Columbia River spanning over 38 years, plus roads and other projects in Oregon and Washington.
His pristine record of reliability and safety and being known for leaving his rig better than he found it ensured him steady work throughout his career as a heavy equipment operator.
After retiring in 1985 Alfred and Doris became snowbirds for many years, traveling south each fall to spend the winter in a warmer place.
Meeting up with many family members living in other parts of the country made for a fun and bonding time with his brothers and sisters; returning in the spring in time to prepare and plant the garden that he loved to work in and share with family and friends.
Alfred enjoyed listening to good live music, socializing with friends and new acquaintances he made during their travels. He also loved towing the camp trailer to a lakeside; only made better when the kids and grandkids joined them around the campfire.
Summer outings were short in between harvesting and caring for the garden. Alfred was very mindful and a good steward of this earth, never wasting or using more than he needed for any given task.
He is survived by his wife, Doris, of The Dalles, Ore.; his children, whom he is very proud of: his son, Stephen Perreault, and daughter-in-law, Kathleen, and his daughter, Jacqueline Koester, and son-in-law, Randy, of Hood River, Ore.; he was blessed with four grandchildren: Lisa Hartley and her husband, Scott, Suzanne Johnson and her husband, Jeff, Angela Willis and her husband, Jon, and Andrew Perreault; and three great-grandchildren: Bryce Hartley and most recent twins, Liam and Elle Johnson.
He was preceded in death by his parents, two sisters and three brothers.
Private cremation held at Win-Quatt Crematory in The Dalles with Spencer, Libby and Powell Funeral Home in care of arrangements. A memorial service will be held on Thursday, March 10, at 11 a.m. at St. Peter's Catholic Church with Fr. Ron Maag officiating.
Remembrances may be made to Heart of Hospice or The Dalles Senior Center.