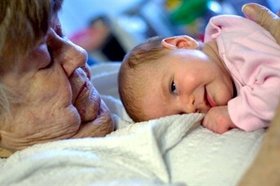 Irma Lee Louden
November 2, 1919 - March 1, 2011
Irma Lee Sanderson Louden passed away March 1, 2011, at her home in Hood River, Ore. She was born Nov. 2, 1919, in Kinston, N.C., to Ephraim J. and Mildred Sanderson. She lived in a number of towns in North Carolina before moving to Los Angeles, Calif., where she graduated from West Los Angeles High School.
Irma married Arthur O. Louden on Nov. 21, 1940, in Los Angeles. They had one daughter, Ellen.
While Arthur was in the Army during World War II Irma lived and worked in Los Angeles and Washington, D.C. In 1945 they moved to Oregon where they owned and operated the Alvadore Store, outside of Eugene, for 21 years; during this time Irma also served as the postmaster. She also served on the Bethel School District budget committee and was "Aunt Irma" to a generation of local children.
After retiring in 1972, Arthur and Irma traveled around the continental U.S. visiting friends and family for many years.
Irma was preceded in death by her husband, Arthur, in 2006; parents and brother, Edward J. Sanderson.
She is survived by daughter Ellen and son-in-law, Arthur Larsen, of Hood River; grandson Brian Larsen and his wife, Karla Sartor, of Los Alamos, N.M.; and grandson David Larsen and his wife, Kimberly, and the newest light of her life, great-granddaughter Paige Michelle, of Cottage Grove, Ore.
Per her wishes no services will be held. A private family burial will be held at Willamette National Cemetery. Donations can be made to Hospice of The Gorge, P.O. Box 36, Hood River, OR 97031.