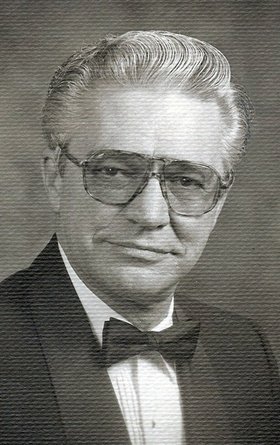 John "Pat" Patrick McGrann
November 5, 1931 - March 6, 2011
John Patrick (Pat) McGrann, 79, passed away in Vancouver, Wash., on Sunday, March 6, 2011, following a courageous battle with cancer. He was born Nov. 5, 1931, in Perham, Minn., to Preston James and Louise Marie Krueger McGrann.
Soon after his father's death in 1943, Pat and his mother relocated to Detroit Lakes, Minn., where he graduated from Detroit Lakes High School in 1949.
Pat proudly served in and received honorable discharges from the U.S. Army, U.S. Navy and U.S. Air Force, earning the rank of staff sergeant. While serving as a Navy photographer stationed in our nation's capital he met the woman who would be the love of his life, and on Nov. 27, 1952, he was united in marriage to Iris Cleo Futrell in Washington, D.C.
Pat enjoyed a career in the telephone industry and rose from the position of lineman in Fargo, N.D., to senior executive in Hood River, Ore. He was licensed as an Oregon Realtor, and worked for many years as a real estate appraiser and as assessor for Hood River County.
After retiring, Pat and Cleo sold their Hood River home and became happy snowbirds, dividing time between Yuma, Ariz., and Washougal, Wash. They traveled extensively throughout the country in their motor home, touring historic sites and visiting friends and family along the way. Their final years were spent in Vancouver, Wash.
Pat was a member of Hood River Elks Lodge No. 1507. He spent 44 years in service to the Order and received the honor of Elk of the Year. Computer technology fascinated him, and he spent many happy hours reconnecting with high school classmates via the Internet.
Pat and Cleo raised and cherished several lively Pomeranian dogs in their time together, and each pet added joy to their lives. After his wife's death, Pat made certain that birthday and Christmas card lists were maintained, and never failed to send each of his children a warm, sentimental greeting on their special day.
Pat is survived by his six children: Kathryn Sheppard, Mary Norris, Carla Smith and her husband, Dennis, Patricia McGrann, Michael McGrann and his wife, Ann, and Corinne Nassey and her husband, Ray; 11 grandchildren and eight great-grandchildren.
In addition to his parents and his stepfather, George W. Warner, he was preceded in death by his dear wife of 57 years, Iris Cleo McGrann, who passed away on April 4, 2010.
Burial with honors for John Patrick McGrann will be held on Friday, March 25, at noon at Willamette National Cemetery, 11800 S.E. Mt. Scott Blvd., Portland, Ore.
The family would like to thank Southwest Hospice and the staff of The Quarry Retirement Community for their help and support. Special thanks to Dr. Holly E. Vanni of Kaiser Permanente Sunnyside for the gentle and compassionate care she provided to our father.
Memorial contributions may be made in memory of John Patrick McGrann to the Fred Hutchinson Cancer Research Center.
Arrangements are under the direction of Davies Cremation & Burial Services, Vancouver, Wash.