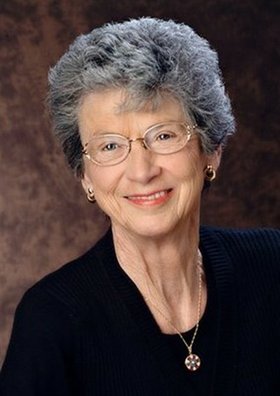 Virginia Lee Hosford
July 16, 1933 - March 9, 2011
Virginia Lee Johnson Hosford passed away March 9, 2011, at her home in Hood River, Ore., following a five-year battle with lung cancer. Her family was by her side at the time of her passing.
Virginia was born July 16, 1933, in Monte Vista, Colo., to Willard and Freda Johnson. She was joined by her brother Don in 1936.
Virginia spent her childhood in Monte Vista, where her life was filled with violin lessons, church activities, Girl Scouts, family outings, summer camps and lots of books. She loved to go to the Carnegie library where she would keep books overdue on purpose to help pay the beloved librarian.
Her family moved to Hood River in 1948 when she was a high school sophomore. Her dad, Willard, became the manager of the Hood River Electric Cooperative, now named the Willard Johnson Sub-Station located in Odell, Ore.
In high school, Virginia's talents and interests were many. She played the violin in the school orchestra and the Music Association Orchestra directed by Boris Sirpo.
Her leadership qualities were evident throughout her high school years as she was president of Girls League, on the staff of The Guide newspaper, a charter member of the Hood River National Honor Society and a member of Girls Athletic Association. She was selected as a delegate to Girls State at Willamette University and elected to the Senate.
Following graduation from Hood River High School in 1951, she entered the University of Oregon and joined Alpha Chi Omega. As a member of this national sorority, she was elected vice president and pledge trainer. In 1953 she was selected as a delegate representing the sorority at the national convention held in Banff Springs, Canada, where she was chosen to serve as a page for the national officers.
Virginia graduated from the University of Oregon in 1955 with a Bachelor of Arts in sociology. Her first teaching job was as a social studies teacher in Sheridan, Ore. It was there that she met Don Hosford, head football coach and biology teacher. After a brief courtship and engagement, Don and Virginia were married in Hood River on July 8, 1956.
In 1957 Virginia returned to Hood River as a teacher at Parkdale Upper Elementary when Don became the head football coach at Wy'east High School.
Virginia and Don adopted two wonderful children, Mitch and Carol. Virginia considered herself lucky to be a full-time stay-at-home mom, a role which she loved. In 1967, she returned to teaching at Wy'east High School and became director of guidance of Hood River Valley High School in 1970.
Since Virginia's retirement, she has enjoyed travel and pursued a variety of avocations. This included her dedication to Sweet Adelines. Her work with this organization included singing in the chorus, leading fundraising projects and serving as editor of the regional newsletter, "ECHO."
In 1994, her hard work was recognized by the Region 24 board of directors and she was appointed "regent." In 2003, Virginia was presented with the "Rose Achievement Award" for her enthusiasm and commitment to promoting Sweet Adelines International and Region 24.
Additionally, Virginia exhibited passion and dedication to the Hood River County Library. Throughout her term on the Hood River County Library board and her five years as president of the Library Foundation, she fought for the bond issue that contributed to the launch of the remodeling project of the Carnegie building.
She also spearheaded the community drive to establish Georgiana Smith Park and create a community gathering place that is now a beautiful park setting surrounding the library.
Her passion and commitment to the Hood River community as well as her drive to make a difference for women and girls of the Gorge was recognized by Soroptimist International of Hood River in 2008 with the "Woman of Distinction" award.
Don and Virginia were married for 54 years. They always said that they did not believe in long-term commitments, and so would renegotiate and decide to "sign on for another year" upon each wedding anniversary.
Virginia is survived by her husband, Don; son Mitch and his wife, Barbara, of Hood River; daughter Carol and son-in-law Loren Gachen, of San Rafael, Calif.; brother Don Johnson of Vancouver, Wash., and nephews Doug and Dan; sister-in-law Darlene and her husband, John Miller, of Tucson, Ariz.; nephew Scott Miller and his wife, Suzi, and their children Matthew and Courtney of Highlands Ranch, Colo.; niece Michelle Miller, of Oakland, Calif.; niece Stacy Stratton and her husband, David, of The Woodlands, Texas, and their children Brandon Stratton and his wife, Michelle, of Arlington, Va., and Amanda Stratton, of The Woodlands, Texas.
A celebration of Virginia's life will be held on Sunday, March 27, at 2 p.m. at Hood River Alliance Church. A reception will take place immediately following the service at the Hood River Valley Adult Center.
Contributions in memory of Virginia may be made to the Hood River County Library Foundation, P.O. Box 1582, Hood River, OR, 97031, and Hospice of the Gorge, 1630 Woods Court, Hood River, OR 97031.
Arrangements are under the direction of Anderson's Tribute Center (Funerals, Receptions, Cremations), 1401 Belmont Ave., Hood River, OR 97031; 541-386-1000. Please visit www.andersonstributecenter.com to leave a note of condolence for family.