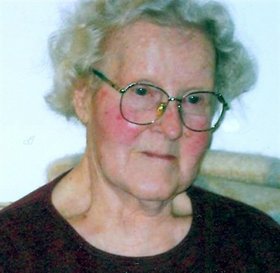 Marjorie Alice Beardsley
November 12, 1917 - March 9, 2011
Marjorie Alice (Jackson) Beardsley, 93, of Gresham, Ore., passed away peacefully at home on March 9, 2011. Marge was born on Nov. 12, 1917, in Chicago, Ill. She graduated from Oak Park River Forest High School in 1936. Later, on March 30, 1939, she married Charles L. Beardsley in Oak Park, Ill.
Marge worked for several companies in the Chicago area and in 1946, when Charles was hired by Diamond Fruit Growers, they moved to Hood River. While in Hood River she was busy rearing their three children and helping out with Boy Scouts and Campfire Girls.
In addition, many years she was seasonally employed by D.F.G. She and Charles were active in Asbury United Methodist Church. She was a loving and caring person and always ready to help others in need.
Upon retirement in 1982, Charles and Marjorie moved to the Parkrose area where they became active in several volunteer organizations and church activities. On six different occasions they traveled to South America to assist in the developing of the food processing industry to Third World countries. They also enjoyed traveling, both in tours and alone.
Marge was talented and left an abundance of knitted, quilted and cross-stitched works of art. She also enjoyed reading, writing and memorizing poetry. She was very fond of animals, particularly dogs, cats and wild birds. Her faith, family and gardening were also very important to her.
Her loving husband, Charles L. Beardsley, preceded her in death on Feb. 21, 2010. She is mourned by three children who survive her: sons Charles Beardsley (Barbara) of Hood River, Alan Beardsley (Alice) of Sisters, and Carolyn Beardsley of Beaverton. She is also survived by six grandchildren and 16 great-grandchildren.
At her request, no local services are planned and Charles and Marjorie will be interred with family in St. Louis, Mo.